A unique 32-inch OLED panel equipped with the LG 32EP950-B ensures crisp details, breathtaking colour quality and high contrast to offer the most immersive viewing experience. There is no doubt that this product is for artists and professionals who require high colour fidelity, and it is sadly not designed for gamers. It is time to find out whether the LG 32EP950-B is worth it or if we should skip a generation and wait for technology to mature before dishing out some coins.
LG UltraFine 32EP950-B 4K Specifications
Screen Size: 32-inch

Resolution: 3840 x 2160 4K UHD

Aspect Ratio: 16:9

Panel Technology: OLED

Refresh Rate: 60Hz

Response Time: 1ms

Contrast Ratio: 1000000:1

Brightness: 250cd/m²

Built-in Speakers: No

VESA Compatibility: Yes

Connectivity: DisplayPort 1.4 x 2, HDMI 2.0 x 1, USB-C 90-Watt x 1, USB 3.0 x 3, 3.5mm Audio Jack

Dimensions with Stand (WxHxD): 28.6 x 24.3 x 9.4

Weight: 12.1 lbs
Price & Availability LG UltraFine 32EP950-B 4K
The monitor is available from various retailers and at different prices. You may need to shop around to get the BEST DEAL. Hopefully, the list below will help you get the best bang for your buck.
Amazon's offering starts at CAD$3,999.99, while Canada Computers has theirs listed at $5,499.99. I'm aiming to find you the best deals. LG 32EP950-B 32 Ultrafine UHD (3840 x 2160) OLED Pro Display with Adobe RBG 99% / DCI-P3 99%, VESA Display HDR 400 True Black, 1M:1 Contrast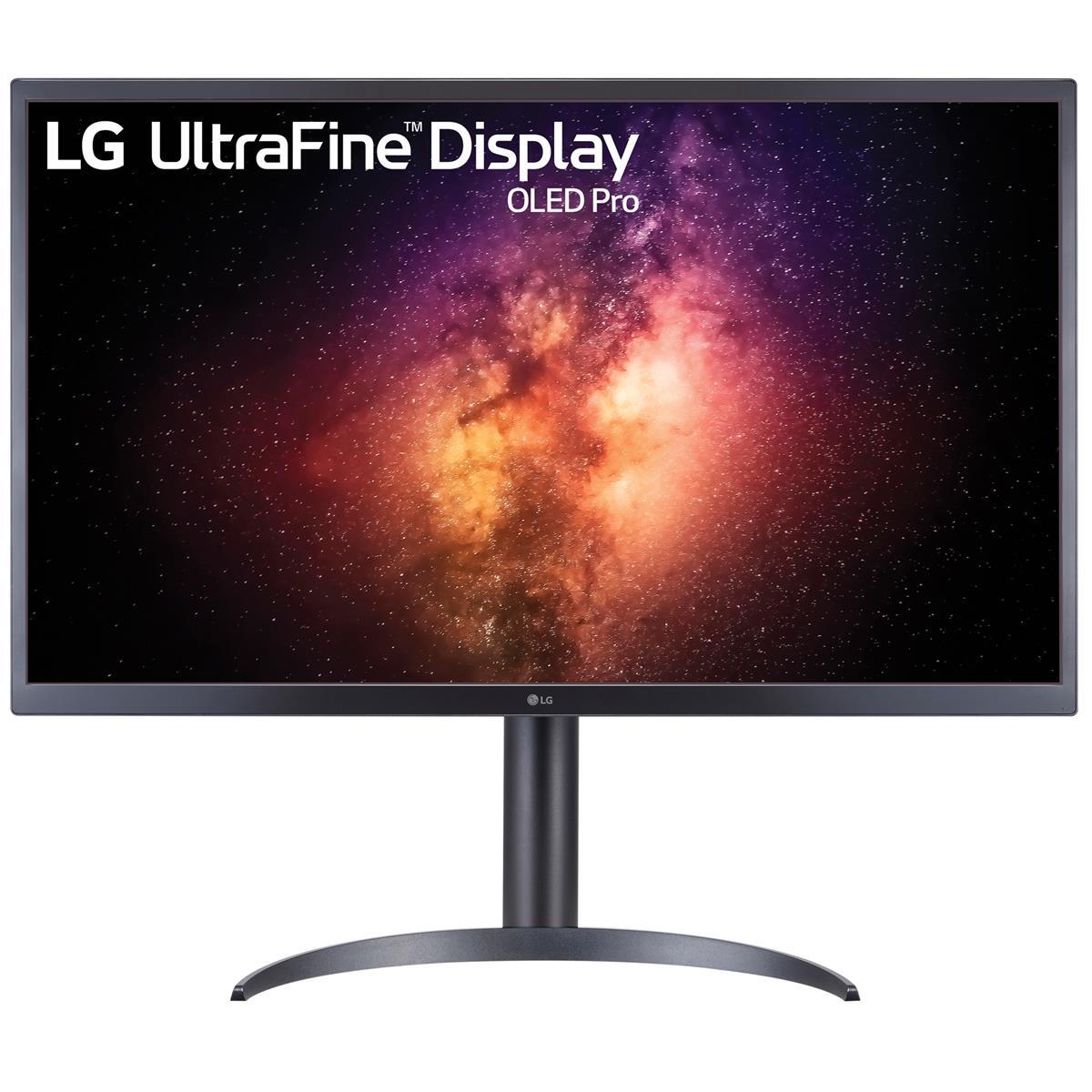 $2,699.00
$3,999.00
out of stock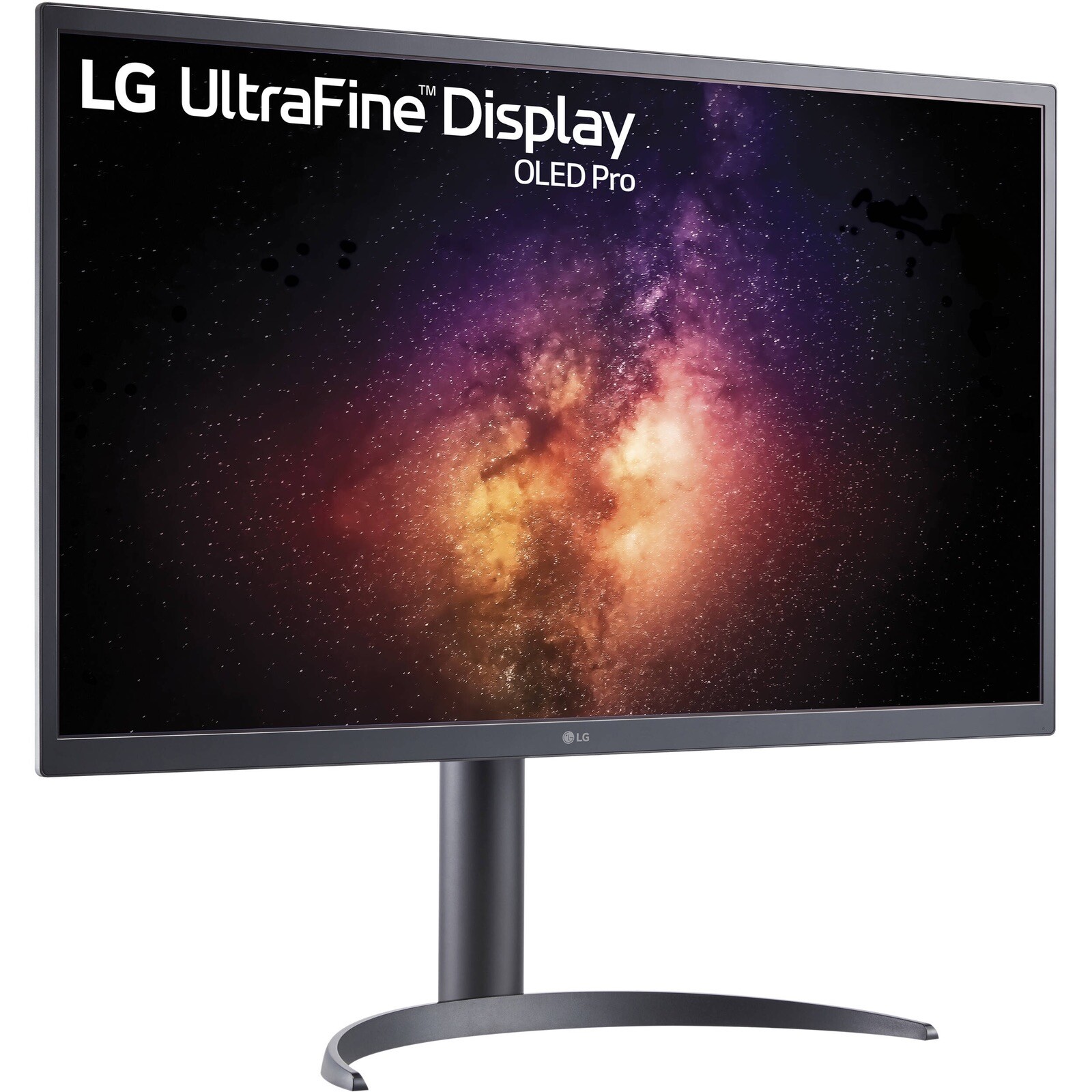 $2,084.21
$3,999.99
as of September 21, 2023 2:55 am
C $2,060.02
as of September 21, 2023 2:55 am
Last updated on September 21, 2023 2:55 am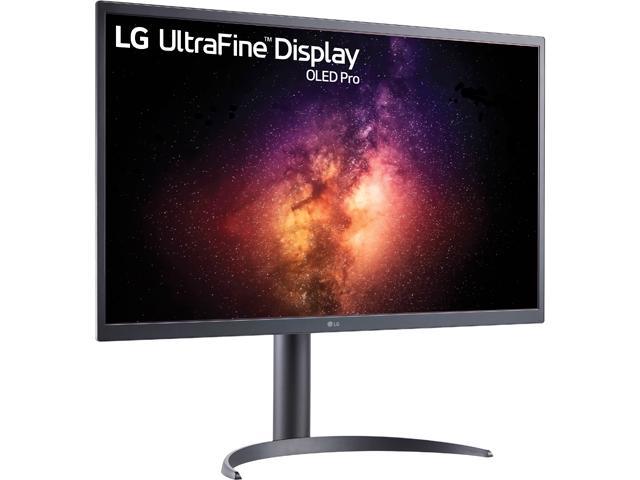 Design – LG UltraFine 32EP950-B 4K
As a member of LG's UltraFine lineup, the LG 32EP950-B has a simple, all-business aesthetic and appeal, which is common to LG's UltraFine line of products. Despite the monitor's matte black frame that has a timeless look, I wish there was a touch of modernity to it in order to make it seem more contemporary. Though the monitor has bezels, they are quite slim, so the large display is not hindered by them.
Compared with the previous model, the updated model is noticeably slimmer and sleeker than its predecessor. A large part of the width of the chassis can be attributed to the stand, creating the illusion that the chassis itself has a detachable blade-style profile. You will need to clear enough space on the desk for it to fit, as it is not a compact monitor by any means.
On the front of the LG 32EP950-B, you'll find the standard OSD joystick as well as the brand's on-screen control feature that you access from the left-hand side; This is because its intended users are likely to tweak things and will probably find both of these useful in the long run. Someone can't lose their way in the various sub-menus within the OSD since the interface itself is well laid out and thoughtfully designed, especially now that those sub-menus are easily navigable by using the tool that comes with it.
You can make several adjustments to the LG 32EP950-B stand, including tilt, pivot, and height adjustments, which makes it possible to use it as both a primary monitor and a secondary display. Alternatively, you can swap out the standard mount for a VESA mount if you want a more ergonomic and comfortable viewing experience. There is one significant difference between this model and other UltraFine monitors; The ArcLine base.
The LG 32EP950-B is quite simple in terms of port connectivity, but it includes all the modern ports users will need. You will find an HDMI 2.0 port and 2 DisplayPort 1.4 ports, plus a capable 90-watt USB-C port for modern laptops. Additional features include three USB 3.0 ports for accessories and a 3.5mm jack for audio equipment.
I must say, however, that the LG 32EP950-B is sorely lacking a pair of high-end speakers like those on the other high-end models of LG. Since the chassis is quite slim, it shouldn't be surprising that very bulky speakers may be incompatible. Understandably, most people would expect a monitor in this price range to include all the essential features.
Display Performance – LG UltraFine 32EP950-B 4K
With its 32-inch display, the LG 32EP950-B comes with a 3840 x 2160 resolution, an OLED panel with a 60Hz refresh rate, and a response time of 1 ms. As an OLED panel with a brightness of 250 cd/m2, its contrast ratio is listed at 1000000:1. Rather than being designed to work like a gaming monitor, the monitor is designed to provide fantastic colour fidelity and HDR support.
The uniqueness of the VESA Display HDR 400 True Black specification makes this display intriguing. This specification does not match the usual HDR400 specification. For OLEDs, the black depth must not exceed 0.0005 nits, but the brightness requirements remain the same.
In a desktop setup, 4K is better suited to 32-inch screens since it looks crisper and offers only a minimal impact on legibility, unlike full HD, where sharpness will take a hit. In addition to being a handy monitor for designers and productivity professionals, you can use the screen for entertainment. Maybe even light gaming as well.
It displays vibrant colours and sRGB compatible with more than 99.5%, DCI-P3 with 99.5%, and Adobe RGB with 98.4%. While the default profile provides an average delta E of 2.13, it is not as accurate as it could be using the custom profile. Despite that, the monitor is still very good for normal use, but most people expect to pinpoint accuracy when they are choosing a monitor in this category.
Considering that the LG 32EP950-B does not have a typical WLED unit, I did not detect any panel issues, such as backlight leaks or clouding, on this display. Furthermore, compared with the mini LED arrays, this model eliminates the problem of inaccuracy that comes with FALD units. Unlike mini LED arrays, which have 1152 zones, every pixel can dim.
In addition to a screen saver mode, it includes an auto-brightness limiter for reducing brightness and an image shift feature for avoiding burn-in. In my opinion, you should leave these features turned on since they have no impact on the quality of the image.
The monitor does not have gaming features that some may be familiar with on the LG 32EP950-B, such as FreeSync or G-Sync. I think a gaming monitor in this range could benefit the line. I would not worry about refresh delays when using the monitor since input lag is extremely low, under 3ms.
Some final thoughts on the LG UltraFine 32EP950-B 4K