The Eero 6 Plus (Eero 6+), the latest version of Eero's easy-to-use Wi-Fi mesh network system, uses Wi-Fi 6 technology and 160MHz channel width to deliver speedy wireless networking throughout your home. There are three identical, low-profile nodes in the Eero 6+ three-pack, each providing coverage of 4,500 square feet. Probably, even more, depending on how you place them in your home.
Eero 6 Plus (Eero 6+) Price?
A single node costs $199, a pair costs $319, and a three-pack costs $429. You can find the Eero at participating retailers, online at Eero or via Amazon.
Features
Wi-Fi Standard: 

Wi-Fi 6.

Speed Rating: 

AX3000.

Range: 

Up to 1,500 sq. ft. per hub.

Wireless Networking Security: 

WPA2, WPA3.

Bands: 

Dual-Band (2.4 and 5GHz).

Integration: 

Amazon Alexa voice commands and routines, Zigbee radio, Bluetooth radio.

Optional:

 Security suite.
With other systems like TP-Link Deco or Asus, you get free parental control and excellent anti-malware software, but with Eero 6+, you don't get these features. A yearly or monthly subscription is required instead.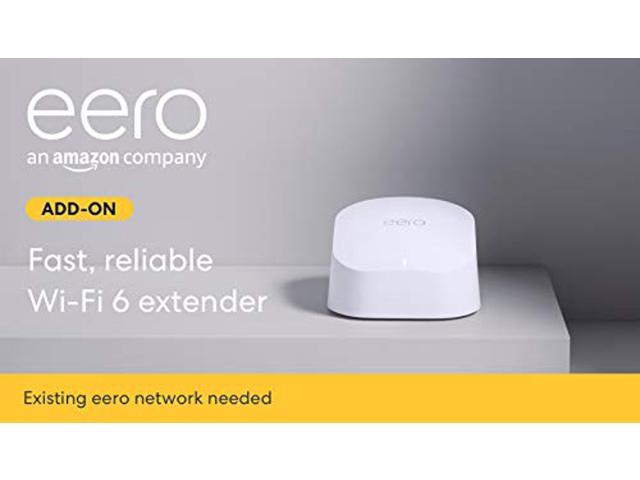 Eero 6 Plus Installation
It was easy to install the Eero 6+ system. As soon as I opened the app, I tapped Start Setup. To set up the Eero nodes, I unplugged my modem and connected one of the nodes to the modem. I used the LAN cable that comes with the Eero package. It was then time for me to turn on the router and the modem. You can connect your modem to any Eero nodes if you're setting up an Eero mesh network.
It immediately found the node after I allowed the app access to my Bluetooth radio. After naming the router and creating a password, it was up and running within seconds. Adding the second node was easy just by clicking Next. I placed it in my living room, plugged it in, and waited a few seconds for it to find the second node. I repeated the process for the third one. The app will immediately update the firmware to complete the installation.
Eero 6 Plus (Eero 6+) Design
On the back panel of each node, there are two gigabit LAN ports and a power port, all of which are auto-sensing to detect the connections between them and your network. When all is working, a small LED indicator will glow white on the top of the node. In addition, a blue LED indicator will flash during setup, and a red LED indicator will flash when there is no internet connection.
Nodes in this generation measure 2.6 by 3.9 by 3.8 inches (HWD), which makes them noticeably smaller than nodes with Eero Pro 6 (2.1 by 5.3 by 5.3 inches), but approximately the same size as nodes with Eero 6.
Similar Products
Last updated on September 15, 2023 1:15 am
Eero 6 Plus (Eero 6+) Performance
This three-piece system covers homes up to 4,500 square feet and received rave reviews from consumers. My first time using it as a home automation hub was a positive experience; This was both in terms of how easy it was to install and how effectively it performed in my tests.
Taking a step further, I can still get about 15% of Wi-Fi coverage at street level while my apartment sits at the upper end of 22 story building.
With the Eero 6+, you can get a combined (theoretical) maximum data rate of 3,000Mbps by using the dual-band AX3000 system, allowing it to achieve the maximum possible data rate. It features support for all of the newest Wi-Fi 6 technology. Such as WPA3 encryption, Orthogonal Frequency Division Multiple Access (OFDMA) data transmissions, MU-MIMO simultaneous data streaming capabilities, and direct-to-client signal beamforming techniques. Newly added to this system is support for 160MHz channel transmissions; the older Eero Pro 6 and Eero 6 lack it.
It has an integrated 1GHz dual-core CPU, 512MB of RAM, and 4GB of flash memory which is on every node of the Eero 6+. The Eero 6+ uses the same Zigbee technology as the Eero Pro 6 and is compatible with a wide variety of smart home devices, including cameras, lights, smart plugs, thermostats, and so on, all of which you control from the Eero mobile app with the help of the Wi-Fi signal.
Furthermore, it supports Amazon Alexa voice commands and routines. You also can find a Bluetooth radio and can control Thread-compatible devices.
The Eero 6 Plus (Eero 6+) App
You can view a tab for each node on the app. View IP addresses and connected devices by tapping any node tab. In addition to these tabs, you can see a display of connected devices and existing user profiles. You can click on each profile to pause the internet, add a device, activate ad blocking, block websites, and restrict apps. Tapping any connected device lets you see how it is connected (radio band, wired) and to which node it is. Also displayed are the IP address, Mac address, and the last active time and date for each of those devices.
The Home button can be found along the bottom of the screen, as well as the Activity button, Discover button, and Settings button. You can access historical statistics on the Activity button, including the fastest upload and download speeds, data amounts uploaded and downloaded, security scans performed, and threats blocked.
Connecting to an Amazon Alexa account, configuring network security and parental control settings, and previewing upcoming features are all available once you click the Discover button. By clicking Settings, you can change your network settings, configure guest networking, change your password, and customize your notifications. You can find a range of advanced network settings, such as DNS, DDNS, NAT settings, and UPnP settings. Thread-compatible smart home devices can connect to this network.
Eero 6 Plus (Eero 6+) Network Performance
The Eero 6+ performed wonderfully in testing. The router score of 919Mbps on the close-proximity throughput test. I am well aware that speeds can vary depending on a set of multi factors. When it comes to a home network that delivers on performance inside your home, this is pretty epic for consumer-grade networking gear.
On independent testing of the nodes and distances to them, the speeds can vary from 500Mbps to 600Mbps, which beats a lot of the competition.
Previously, I used the TP-Link Deco X20, which delivered a fantastic networking experience, and was a set-it-and-forget-it system.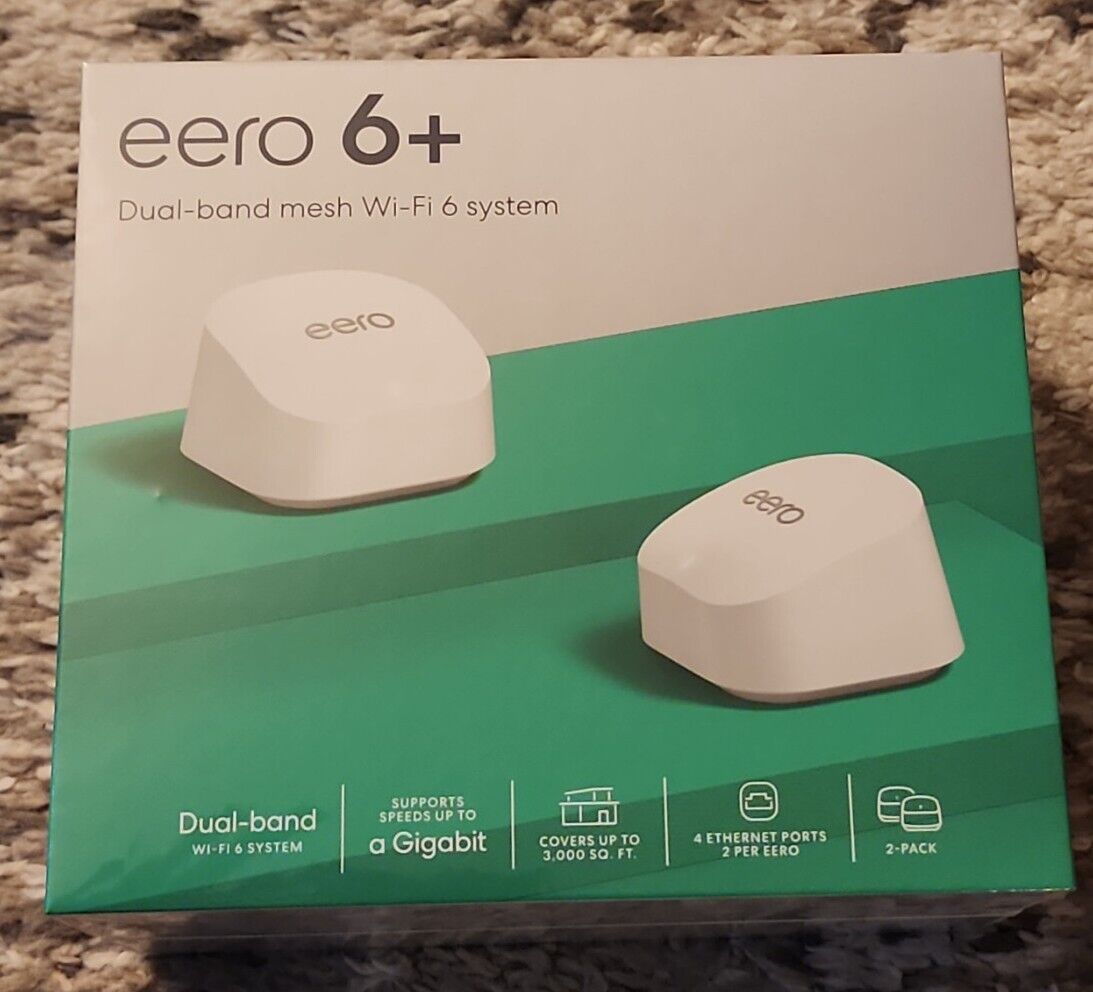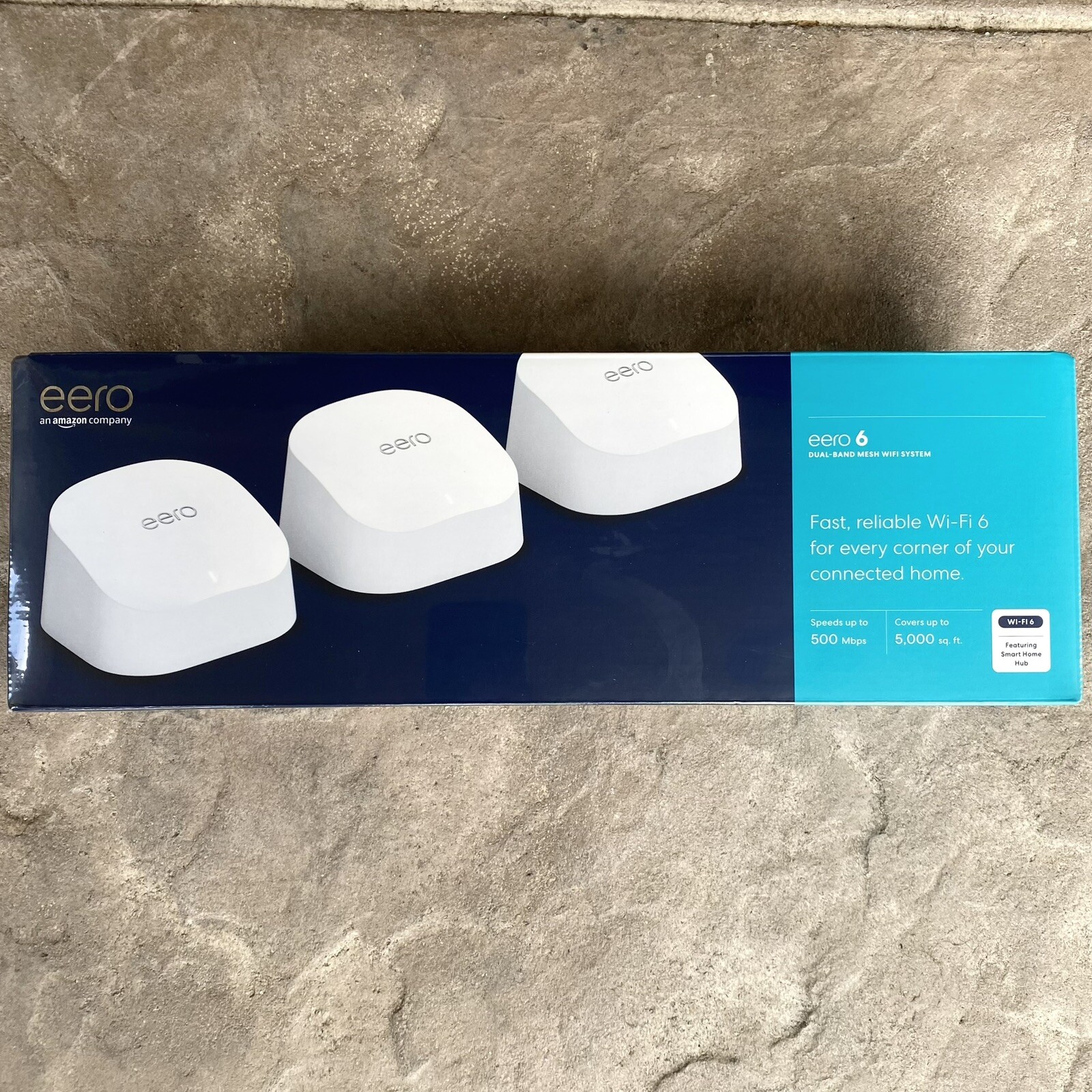 Final Verdict
If you're shopping for a Wi-Fi mesh system that spreads Wi-Fi 6 goodness throughout your home, the Eero 6+ should be at the top of your list. Installation is easy and takes just a few minutes. In addition to providing speedy wireless networking to all rooms in your home, Eero 6+ has some security and management features that will cost you extra.