The Sonim XP10 is not your typical smartphone. This rugged device is built tough to withstand the rigours of work and play in the harshest environments. With military-grade durability and a fully waterproof design, the XP10 can take abuse that would destroy a normal phone.
Nearly Indestructible Construction
The XP10 features a thick protective casing and rubberized exterior that shields the inner components. It meets MIL-STD-810H standards, meaning it can survive drops, shocks, vibrations, extreme temperatures, and more.
Specifically, I subjected the phone to stress tests including repeated 6-foot drops onto concrete, kicking it forcefully across the pavement, and using it as a hockey puck on asphalt. The XP10 emerged unscathed each time, living up to its durability claims.
The phone also boasts an IP68 rating for protection against dust and water immersion. I dunked it in a bucket of water for 30 minutes with no issues afterwards.
To provide further peace of mind, Sonim offers a three-year comprehensive warranty that covers damage – an unusually generous policy for smartphones.
With its thick protective rubber and plastic casing surrounding a metal inner frame, the XP10 feels utterly solid in hand. You can use it worry-free in the most demanding environments.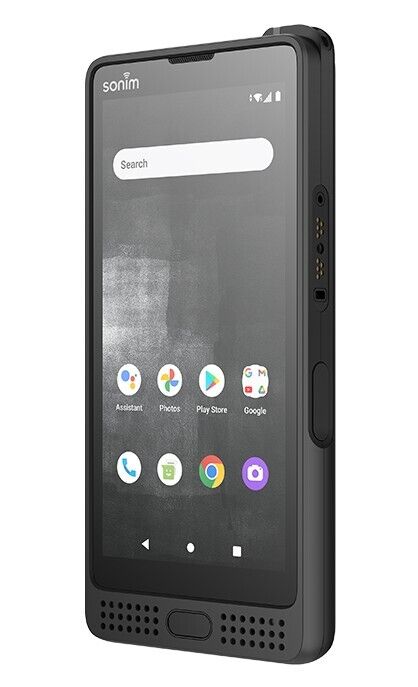 $449.99
$479.99
as of December 7, 2023 9:26 am
Loud and Clear Audio
In my testing, the XP10 performed well for voice calls with clear audio through the earpiece and speaker. Volume peaks at respectable levels – 71.9dB on the earpiece and 87.5dB from the speaker.
A dedicated push-to-talk (PTT) button makes walkie-talkie-style communication easy for worksites. The XP10's PTT capabilities allow quick voice contact with coworkers when a phone call isn't convenient.
Integrated front-firing stereo speakers allow the XP10 to pump out loud audio. Music sounds quite good through the dual speakers, and the built-in 100dB siren easily gets your attention even in noisy outdoor or industrial environments.
Since there's no headphone jack, you'll need to connect Bluetooth headphones wirelessly. However, the audio quality over Bluetooth sounded excellent in my testing.
Vivid Display Visible in Sunlight
The XP10's 5.5-inch 1080p LCD display delivers sharp, vivid images even outdoors thanks to a maximum 500 nit brightness. With Gorilla Glass Victus shielding the screen, you don't have to worry much about scratches either.
Wide viewing angles make the display easy to see whether you're wearing gloves or working in direct sunlight. It's not as sleek and crisp as an OLED panel, but for this type of rugged device, the XP10's screen looks fantastic.
Ruggedness Meets Smart Features
Despite its rugged exterior, the Sonim XP10 packs helpful smart features:
5.5″ HD display

with Gorilla Glass Victus

Octa-core

Snapdragon 480 processor

and 6GB RAM

128GB storage plus microSD expansion

Dual rear cameras

(50MP main, 8MP wide)

8MP front camera

for selfies and video calls

5G and Wi-Fi 5

connectivity

IP68 waterproofing

and wireless charging

Dual SIM slots

and dedicated GPS
The interface runs a clean build of Android 12 that should be familiar to most users. Sonim pledges security updates through 2025 and one Android version upgrade to Android 13.
Decent Performance with Some Tradeoffs
The XP10's ruggedness necessitates some tradeoffs compared to mainstream smartphones:
Thicker and heavier

than typical phones at 16mm thick and 11 oz

The dated Snapdragon 480 chip provides merely adequate performance

Disappointing speeds on 5G networks in my testing

Maximum 1080p video recording, no 4K option

Charging is limited to 18W wired, with no ultra-fast charging
The Snapdragon 480 and 6GB RAM deliver Unexpectedly unimpressive benchmark scores compared to top-tier phones. But for everyday tasks and industrial applications, I found the XP10 responsive enough during real-world use.
Battery life is decent at around 11 hours of video streaming over Wi-Fi, but not outstanding versus leading phones. Charging the 5,000 mAh battery takes about 2 hours with the included 18W adapter.
The cameras deliver good photos and 1080p video for this device class, though image quality falls short of premium camera phones as expected. But they suffice for documenting worksites and outdoor adventures.
Despite the tradeoffs, the XP10 succeeds in its primary mission – providing robust connectivity and useful features in an extremely durable package. For industrial applications and outdoor activities with drops, shocks, and water exposure, the rugged design is a major asset.
Solid Call Quality and Useful Software
In my experience, call quality on the XP10 lived up to expectations. Voices sounded clear over the earpiece and speakerphone. Noise cancellation worked effectively even in windy outdoor settings.
For businesses, the included Sonim Scout software is a plus, allowing companies to deploy and manage XP10 devices securely across an organization. And integrated push-to-talk remains a distinguishing feature for quick communication between coworkers.
Useful outdoor apps like a decibel meter and flashlight are preloaded. The clean Android 12 build offers access to hundreds of thousands of apps on Google Play without unnecessary bloatware hampering performance.
Good Cameras for This Device Class
Given its rugged construction, I was pleasantly surprised by the XP10's photographic capabilities. The 50MP main camera captured sharp, vivid shots in good lighting conditions. The 8MP wide-angle lens provides flexibility for landscapes and tight spaces.
Images understandably get grainier in low light, but not any worse than a typical mid-range smartphone camera. The 8MP selfie cam worked well for video calls and virtual meetings.
While the XP10 can't compete optically with premium phones from Apple, Google, and Samsung, its cameras deliver the goods for documenting work sites, inspections, and outdoor adventures. 1080p video also looked crisp and stable.
Durable Design with Expected Compromises
With its ruggedized design, the Sonim XP10 predictably lags behind svelte flagship phones in certain areas:
Bulkier and heavier at 16mm thick and 11 oz

Dated Snapdragon 480 processor with average benchmark scores

Lacklustre 5G speeds compared to phones with newer Qualcomm chips

Wired charging is limited to 18W, with no ultra-fast charging support
But those comprise acceptable tradeoffs for the XP10's unmatched sturdiness. This phone isn't built for streaming or gaming but for reliable connectivity in harsh environments. And it accomplishes that goal admirably.
For industrial users who need a device that can withstand drops, shocks, vibration, dust, and water exposure, the XP10 delivers durability above all else. Battery life, call quality, cameras, and other core features are quite solid for this type of specialized smartphone.
Attractive Pricing for the Rugged Build
Considering its rugged design meeting MIL-STD-810H standards, the Sonim XP10 provides good value at around $500. More expensive rugged phones can cost $700 or more.
For the money, you get an IP68-rated phone able to withstand tremendous abuse along with modern connectivity and productivity features. The three-year comprehensive warranty provides extra peace of mind.
The XP10 costs significantly less than top-tier flagship phones while offering greater resilience. For industrial and outdoor applications where durability is a must, it's an attractive option at this price point.
Last Amazon price update was: December 7, 2023 9:26 am
Conclusion: The Rugged XP10 Delivers for Demanding Conditions
For occupations and adventures where drops, water, dust, shocks, and vibrations are given, the Sonim XP10 provides reliable connectivity and smart features in a virtually indestructible package.
Despite some expected compromises in speed and camera quality, the XP10 succeeds as a rugged communication tool and productivity device. For work sites and outdoor activities where toughness is essential, I can recommend the XP10 as a solid investment.
It may not win any speed tests, but this rugged Sonim smartphone earns top marks for resilience and durability. When failure is not an option, the XP10 delivers.
For reliable connectivity in the most demanding conditions, check out the Sonim XP10 rugged smartphone. Built tougher than your average phone, it keeps working where others fail. Learn more about the XP10's durability and key features at Sonim.com.