The T30 earbuds by Tranya
Tranya is not your typical go-to earbuds brand, but they have been making waves. The waves they've been making are with their earbuds. Delivery of quality audio at lower prices is what they do. Many years of immersion in the audio industry have enabled them to achieve the higher level of quality and performance demanded by customers. The latest to come out of Tranya is the T30 earbuds.
Price & Availability
The T30 earbuds from Tranya are currently available on Amazon Canada for $59.99, but you can also apply an extra $10 off coupon, making the earbuds $49.99. I'll leave a link at the top and bottom of the page for easy access to the deal.
$39.99
as of August 29, 2023 9:30 am
C $59.99
as of August 29, 2023 9:30 am
Last updated on August 29, 2023 9:30 am
Features
4-Microphones, for better clarity, when talking

Crystal clear calls

Normal & Bass boosted mode

Fast USB-C Charging

Game Mode for low latency

IPX7 Waterproof

eBay Offer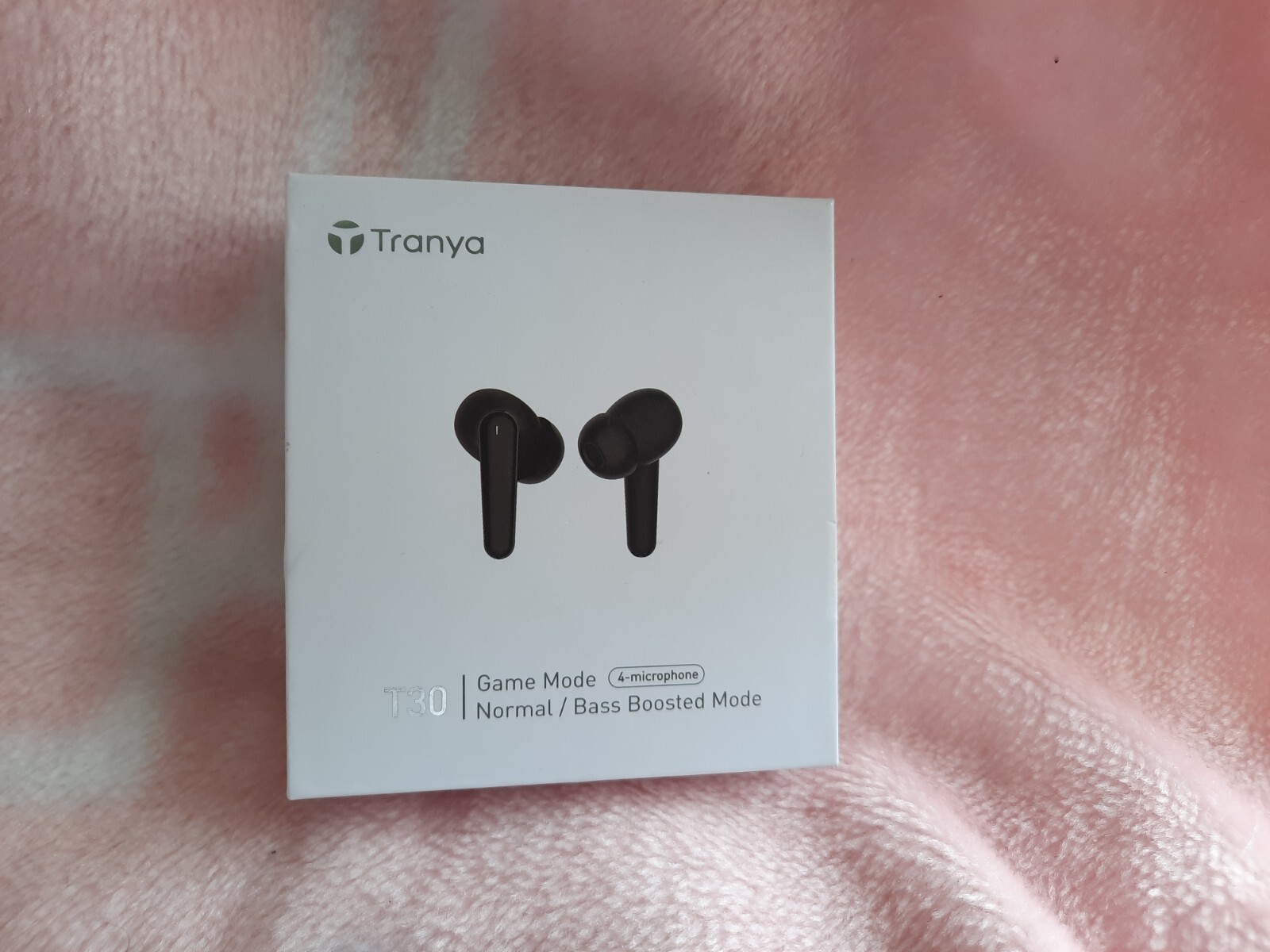 Tranya T30 Wireless Earbuds Deep Bass,4 Microphones Clear Call Bluetooth 5.1
as of August 29, 2023 9:30 am
Design
The design of the earbuds and case is pretty generic and unappealing. It's a classic black matte look and feel. The earbud Marshmellow tips included are there to assist with the best comfort. The style is very reminiscent of the current format of truly wireless earbuds.
You'll notice that the charging case plugs in via USB-C, which is the standard of choice these days, but there's no wireless charging.
Sounds Quality
The sounds quality is surprisingly good. Even without noise cancellation, the seal, if done correctly, works wonders to keep the noise out. Tranya includes multiple ear tips to adjust the fit. When talking about the quality of the sound, we refer to 3 points, Mids, Bass, and Highs.
The Bass coming out of the T30 are very much lively. You get the music feeling in your soul. The music is booming, but if we could adjust trebles to clear that up just a bit to make it crisper. The Bass is nice, but with a few tweaks, this would enhance the overall enjoyment.
The middle of the notes is similar to the sound coming out of the Airpods and my GSP 601. You can distinguish the melody, harmony, and rhythm in any piece of music. Vocal-heavy songs are enjoyable to listen to because the vocals are clear and easy to understand. You can even push the range pretty high before hearing any distortion.
I find that the highs are good, but with a slight bend to them, and it's not on all songs. Having access to an app with an EQ to adjust this would provide the needed changes where I can customize the sound just ever so slightly.
Battery Life
During my review time with the T30 from Tranya, I've had a hard time killing them off. With a generous 8-hours of playback time and 40-hours worth of additional battery life with the charging case, you'll notice that they are always fully charged.
I don't listen to music for 8-hours straight, and I assume much is also true for the majority of consumers. I think you could easily go a full week before you need to charge them and the case.
Should you buy it?
The Tranya T30 delivers on the music enjoyment. The sounds coming out of the T30 is fantastic, and for that alone, I recommend them. Let's touch on the battery life, with that generous 8-hours worth of playback time and that sweet charging case dishing out an extra 40-hours. It's hard not to say no.
Where it falls short is on the features. You don't have active noise cancellation, there's no wireless charging option, and there's no dedicated app for EQ and other settings. It does, however, manage to give you a solid, truly wireless experience at a very low cost.
With a current price tag of CAD$49.99, it's hard not to check them out.