The Samsung Galaxy Tab S9 marks a bold stride forward for Android tablets. Its stunning 11-inch AMOLED display with 2560 x 1600 resolution elevates it into a class all its own. This vibrant 278.1mm screen nourishes the soul of every aspiring digital artist and movie buff.
With the Tab S9, your creative juices will flow freely thanks to its larger-than-life visuals. This tablet can satisfy even the most discerning techie who craves crisp graphics and dynamic colours.
Unleash Your Creativity with the Samsung Galaxy Tab S9: An 11-inch AMOLED powerhouse with S Pen stylus, offering stunning visuals, snappy performance, and Dolby Atmos sound for a truly immersive digital canvas experience.
Goodbye Boredom, Hello Brilliance
Farewell to lacklustre screens. The Tab S9 ushers in a new era of visually striking mobile technology.
Its cinematic AMOLED display achieves excellence with flying colours. Say hello to deeper blacks and dazzling contrast. This innovative screen makes everything pop with renewed clarity.
The 120Hz refresh rate allows buttery smooth transitions between apps and activities. HDR support enables stellar highlights and refined details. You'll swear you're watching a state-of-the-art OLED TV instead of a humble tablet.
But the Tab S9 forges its own trail as a remarkable digital canvas for creators. Your artistic expression will know no bounds with this powerful mobile studio in hand.
$791.29
$919.99
as of November 29, 2023 11:15 pm
Technical Specification
| | Specification |
| --- | --- |
| Screen Size | 11.0″ (278.1mm) |
| Rear Camera Resolution | 13MP |
| Weight | 498g |
| CPU Speed | 3.36GHz, 2.8GHz, 2GHz |
| CPU Type | Octa-Core |
| Display Resolution | 2560 x 1600 (WQXGA) |
| Display Technology | Dynamic AMOLED 2X |
| S Pen Support | Yes |
| Front Camera Resolution | 12MP |
| Video Recording Resolution | UHD 4K (3840 x 2160)@30fps |
Unleash Your Creativity With The S Pen
The Galaxy Tab S9 empowers imagination and innovation with the included S Pen stylus. This impressive accessory expands your tablet into a versatile tool for crafting digital masterpieces.
The precise and responsive S Pen transforms the Tab S9 into a mobile sketchpad, design studio and notepad. It's the perfect conduit for downloading ideas from your mind onto the brilliant AMOLED display.
Give Your Creativity New Wings
With the S Pen, you can illustrate life or design your dream home with pinpoint accuracy. Write poetry under the stars or chart constellations in the night sky. Craft 3D models then animate them into short films. The possibilities are endless when you wield this mighty stylus.
The S Pen flows effortlessly across the screen, capturing each stroke and scribble flawlessly. Palm rejection technology ensures your hand doesn't cause unwanted inputs.
Attaching magnetically to the back or side, the S Pen stays within arm's reach. This prevents misplacement while allowing quick access to jot notes or thoughts.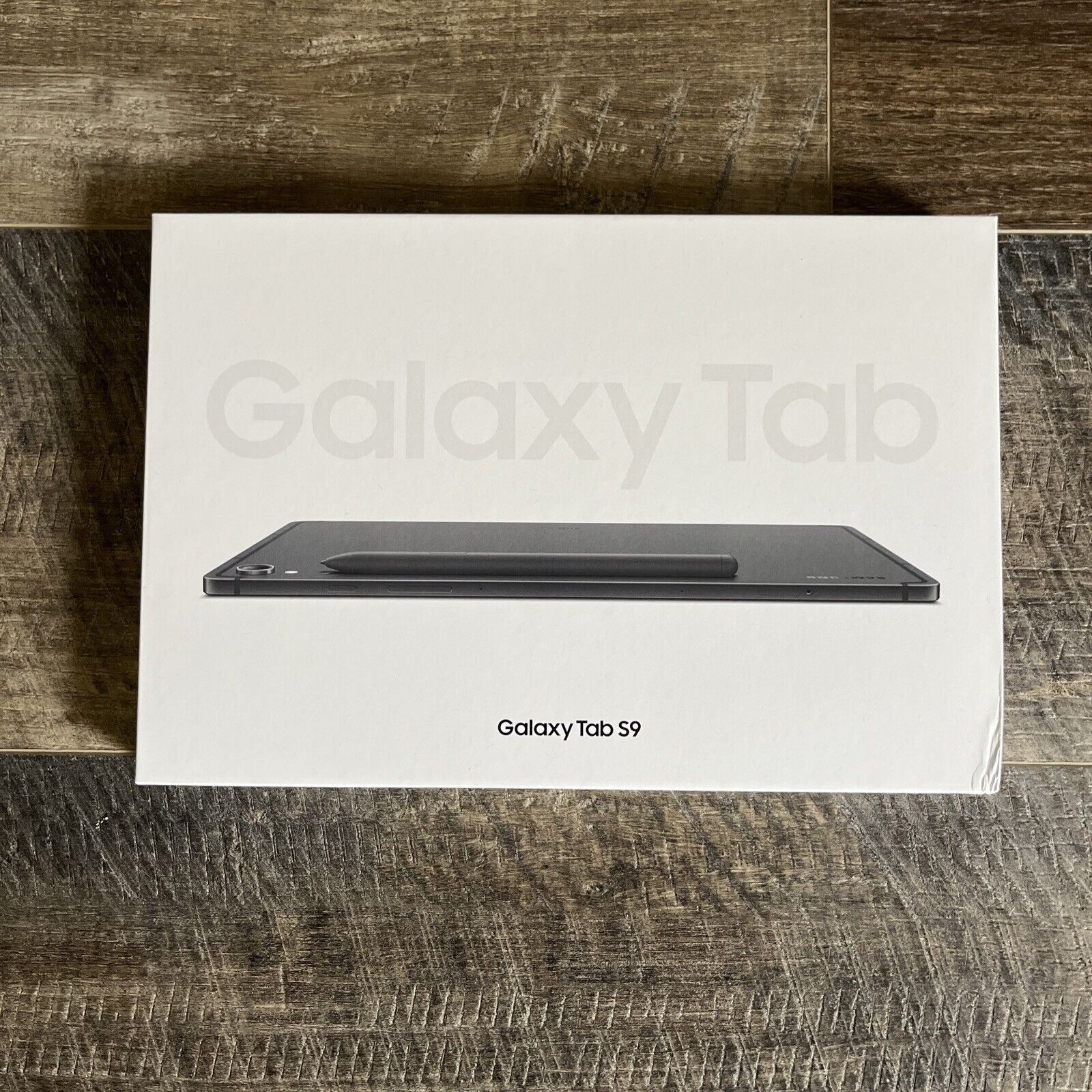 Snappy Performance With Octa-Core CPU Up To 3.36GHz
Beneath its sleek exterior, the Galaxy Tab S9 packs serious power for limitless productivity and entertainment. The octa-core Qualcomm Snapdragon 8 Gen 2 chipset, with speeds up to 3.36GHz, delivers speedy performance whether working or playing.
Seamless Multitasking
With a blazing-fast processor and 12GB RAM, the Tab S9 laughs in the face of lag. It lets you flip smoothly between art apps, streaming video, mobile games, web browsing and more.
If inspiration strikes while watching a movie, you can fire up your drawing tools and start sketching immediately. The Tab S9 allows seamless transitions between creative pursuits thanks to its top-notch hardware.
Power Beyond The Price Point
Starting at $1,099, the Galaxy Tab S9 brings serious bang for your buck. Surprisingly capable of an entry-level slate, it outguns pricier competitors on processor speed and benchmark tests.
You won't find another tablet that delivers such sublime visuals and snappy performance at this price point. The Tab S9 redefines expectations for affordable premium tablets.
Cinematic Sound With Dolby Atmos Support
With four speakers tuned by Dolby Atmos, the Galaxy Tab S9 is a portable home theatre. Your music, movies, and games will come alive with immersive audio that fills the room.
Big Sound, Small Package
Don't let its trim profile fool you. The Tab S9 delivers the crystal-clear sound and decent volume given its streamlined 498g chassis.
Audio remains crisp and consistent even at higher levels so you can crank up the volume for impactful sound. Though the bass is lacking due to size constraints, vocals and mids resonate beautifully from the four-speaker array.
Have Theater-Quality Sound On The Go
Thanks to Dolby Atmos support, listening on the Tab S9 feels astonishingly spacious. You'll swear you're in a real cinema when watching movies or playing games. The 3D audio effects add a thrilling ambiance that makes content come alive.
With sound this cinematic, you may never visit a theatre again! The Tab S9 brings larger-than-life auditory experiences wherever you roam.
Versatile Accessories For Work And Play
The Galaxy Tab S9 readily transforms into a productivity powerhouse or creative workstation with Samsung's line of optional accessories.
Multitask Like A Pro
For professionals on the move, add the Book Cover Keyboard to turn the Tab S9 into a makeshift laptop. The backlit keys and responsive trackpad provide desktop-like productivity for working on business documents and emails.
Limitless Expression
Creative folks can grab the S Pen Book Cover for next-level notetaking and art creation. The detachable keyboard gives you a sturdy base while the spacious trackpad supplements the S Pen for drawing, designing and photo editing.
Fluid Software Tailored For Tablets
Samsung loads the Galaxy Tab S9 with an optimized flavour of Android 13 that capitalizes on the expansive 11-inch display and S Pen support. The software enhances the user experience through:
Tablet-focused UI

– Large navigation buttons, system fonts and screen layouts

Multitasking perks

– Split screen, pop-up windows and drag/drop between apps

S Pen integration

– Low latency input, handwriting conversion and quick notes

Seamless cross-device syncing

– Share files and data between Galaxy devices
While keeping the foundation of stock Android, Samsung's One UI skin improves navigation and multitasking on the Tab S9's large, pen-enabled display.
Work Smarter, Play Harder
The refined software allows working efficiently while enabling entertainment on a gorgeous AMOLED canvas. Streamlined functionality takes full advantage of the S Pen's capabilities as well.
With bespoke optimizations just for tablets, the Galaxy Tab S9 brings Android's interface up to par with iPadOS. This creates a more intuitive and enjoyable experience compared to vanilla Android.
Vibrant Visuals To Ignite Your Creativity
Unleash Your Creativity with the Samsung Galaxy Tab S9: An 11-inch AMOLED powerhouse with S Pen stylus, offering stunning visuals, snappy performance, and Dolby Atmos sound for a truly immersive digital canvas experience.
With its cinematic 11-inch AMOLED display and smooth 120Hz visuals, the Galaxy Tab S9 dazzles the senses. Watching movies or playing games on this tablet becomes a visceral delight.
The brilliantly vivid screen and S Pen support turn the Tab S9 into a portable digital studio for unleashing creative passions. Whether sketching portraits, animating 3D scenes or compositing photos, this tablet stimulates artistic flow.
Despite its entry-level pricing, the Galaxy Tab S9 outperforms pricier competitors on display quality, benchmark speeds and S Pen integration. For artists, designers and entertainers alike, this tablet offers sublime value.
So pick up a Samsung Galaxy Tab S9 to ignite your imagination. Its stunning visuals will thrill your inner artist and revitalize your creative spirit. Let your ingenuity run wild on this capable digital canvas. The only limit is your imagination!
Frequently Asked Questions
What's Shakin' with the New Samsung Galaxy Tab S9 Series?

The Tab S9 lineup brings some sweet upgrades to get hype about. These tablets are now certified water- and dust-resistant with an IP68 rating, so feel free to drool over your device by the pool. The stunning Dynamic AMOLED 2X display is now standard across all models, blessing your eyeballs with dazzling visuals no matter which you choose. Under the hood, the new Snapdragon 8 Gen 2 chip provides maximum power for gaming and creating. And ultra-slim bezels give the Tab S9 squad a sleek, futuristic look. Let's break it down!

Can the Tab S9 Hang with Water and Dust?

You betcha! The Tab S9 series are the first Galaxy Tabs to rock an IP68 rating. That means they can chill with a little water and dust without freaking out. The Armor Aluminum frame protects against bumps and drops too. Even the S Pen is IP68-rated, so feel free to scribble in the shower if inspiration strikes. Just don't submerge it too long, these tablets are water-resistant, not waterproof.

How Vibrant is the Screen?

Samsung's stunning Dynamic AMOLED 2X display now graces every Tab S9 model. So whether you snag the entry-level Tab S9 or go all out with the S9 Ultra, your eyeballs will soak up brilliant colours and buttery smooth 120Hz visuals. It's primo for binge-watching shows or fragging foes in mobile games. Plus HDR10+ support takes the viewing experience over the top.

Which Tab Has the Biggest Screen?

The Tab S9 Ultra flexes a massive 14.6-inch display, so go big if you want maximum real estate for creating and viewing content. The S9+ sports a respectable 12.4-inch screen for great portability with slightly less workspace. The standard S9 rocks a highly notable 11-inch panel, ideal for travel and one-handed use. All deliver eye-popping quality though thanks to AMOLED.

How Does the Performance Stack Up?

The new Snapdragon 8 Gen 2 processor provides monstrous power for blazing productivity and entertainment. Video editing, 3D modelling, gaming – the Tab S9 family crunches through intensive tasks without breaking a sweat. Multitask till you pass out and experience buttery smooth operation thanks to up to 16GB RAM configurations.

How Much Storage Do I Need?

If you're mainly streaming movies and shows, base storage is fine. But creative pros should splurge on higher capacity models. The Tab S9 comes in 128GB or 256GB flavors with 8-12GB RAM. Step up to the Tab S9+ for 256GB or 512GB storage with 12GB RAM. And the Ultra offers 256GB, 512GB or a whopping 1TB storage capacity paired with 12-16GB RAM. Still not enough? Just snag a MicroSD card for up to 1TB of additional space.

Can I Get Lightning Fast 5G?

The 5G-enabled Tab S9+ model lets you experience the blazing-fast speeds and low latency of next-gen networks. You'll get download speeds up to 10x faster than LTE while avoiding sketchy public Wi-Fi. The Tab S9 and S9 Ultra rock Wi-Fi 6E for super fast local connections.

What About Cameras and Speakers?

The Tab S9 cams help you look and sound your best on video calls. Auto Framing keeps you centred in the shot as you move. The Ultra even adds dual front cameras for adding different perspectives. Four AKG speakers with Dolby Atmos surround sound crank out rich audio. Crank up the volume and your tunes, movies and games will sound phenomenal.

Does the Battery Go the Distance?

No need to pack a charger with the Tab S9 squad. Their high-capacity batteries last through seasons of your favourite shows and long creative sessions. When you do need a boost, 45W fast charging has your back. And you can share power between your Tab and phone with Wireless PowerShare.

What Can the S Pen Do?

The S Pen lets your creativity flow with pro-level drawing and note-taking apps. Handwrite notes that convert to text, remotely snap pics, edit images with precision, and more. Now it's water-resistant too, so feel free to doodle in the tub! And it magnetically charges and pairs by attaching to your tablet.

Which Accessories Should I Grab?

Pimp your productivity and protect your investment with Samsung's first-party accessories. Keyboard covers let you type comfortably for work. Detachable screen panels recreate pen and paper for free-flowing creativity. And rugged cases keep your Tab safe from drops and dings. Hit up Samsung.com to find the perfect pairings for your Tab S9.

How Does the Warranty Work?

Not to worry, Samsung has your back. Just register your device, then visit Samsung support online to begin the repair process if issues pop up down the road. Support wizards can also help troubleshoot problems and answer your questions. Sit back and enjoy your Tab with peace of mind knowing Samsung support is there if you need it.