OnePlus, the company that made its name by offering flagship smartphone specs at budget prices, is now aiming to do the same in the tablet space with the new Pad Go. This lightweight Android slate combines some premium features with an affordable price tag, positioning it as a compelling option for budget-conscious buyers.
A Thin & Light Design for Easy Portability
One of the key selling points of the Pad Go is its slim and portable design. Weighing just 532g and measuring 6.9mm thin, this tablet is easy to hold and carry around. The bezels around the 11.35″ display are not the slimmest out there but contribute to the overall lightweight feel. For users who want an affordable tablet for content consumption on the go, the Pad Go promises to provide a comfortable handheld experience.
OnePlus Pad 11.61" LCD Display, 8GB RAM,128GB Storage, MediaTek Dimensity 9000, Android 13.1, 144HZ Refresh Rate, Dolby Vision Atmos, Wi-Fi with Cellular Data Sharing Tablet
as of December 7, 2023 4:56 pm
Vibrant 11″ Display with 90Hz Refresh Rate
The Pad Go may have a budget price tag, but it doesn't skimp too much on the display. It packs an 11.35" LCD panel with a 1720 x 2408 pixel resolution and 90Hz refresh rate. This adds up to a pixel density of ~260 ppi and smooth scrolling and animations. The 400 nits maximum brightness could be better but should suffice for indoor use. Overall, buyers can expect a sharp, fluid viewing experience ideal for streaming shows, browsing the web, and more.
Capable Performance for Everyday Tasks
Under the hood, the Pad Go features a MediaTek Helio G99 chipset paired with 8GB of RAM. While not exactly a processing powerhouse, this combination delivers adequate speed for everyday tasks like web browsing, video calls, light gaming, and productivity. Multitasking is also handled decently thanks to the ample memory allocation. The tablet runs OxygenOS 13 based on Android 13 out of the box.
Long Battery Life & Rapid Charging Support
The OnePlus Pad Go packs an 8000 mAh battery which should easily deliver 1-2 days of usage on a single charge. This gives users the freedom to binge content and use the tablet extensively without worrying about constantly tethering it to a charger. When charging is needed, the included 33W SUPERVOOC charger juices the battery rapidly. The tablet also charges via USB-C for convenience.
Capable Cameras for Video Calls
With remote work and learning still commonplace, capable cameras on tablets are a necessity for many. The Pad Go delivers in this regard with an 8MP front camera that records 1080p video at 30fps. An additional 5MP rear camera can also capture decent pictures and video footage. Low light performance is not a strong suit, but the cameras get the job done for occasional use.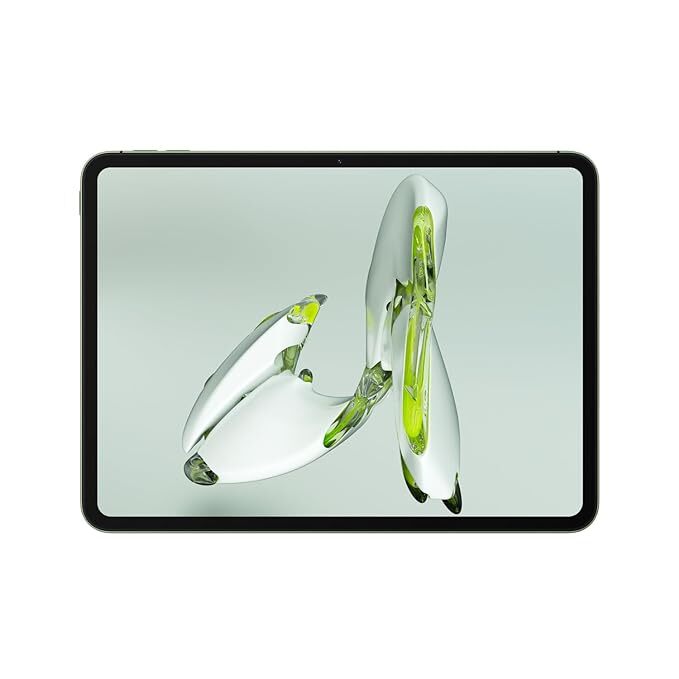 OnePlus Pad Go 11.35" 2.4K 7:5 Ratio ReadFit Eye Care LCD Wi-Fi Only, 8GB 128GB
as of December 5, 2023 9:19 am
Immersive Dolby Atmos® Quad Speakers
Entertainment lovers will appreciate the four Dolby Atmos® enabled speakers on the Pad Go. While bass is not its forte, the tablet can pump out loud, clear audio with good stereo separation. The speakers make watching movies, playing games, and jamming out to music more engaging, complementing the vibrant display. A headphone jack would've been nice for private listening but is sadly omitted.
Affordable Price Makes It Approachable
The OnePlus Pad Go starts at just Rs. 19,999 for the Wi-Fi model with 128GB of storage. At this price point, it manages to undercut the competition while still retaining flagship-level traits like a high refresh rate display, rapid charging, and Dolby Atmos quad speakers. For shoppers wanting a budget big-screen device for media consumption and communication, the Pad Go checks a lot of boxes without breaking the bank.
Not Suited for Power Users
While the Pad Go offers good value, there are some compromises. The Helio G99 chipset will start to stutter with graphics-heavy games. Professional users seeking top-notch performance for creative work or multitasking will want to look elsewhere. There's also no 5G, NFC, or SIM card support for cellular connectivity. But for the target budget-focused audience, these omissions are understandable.
Final Verdict: A Worthy Budget Media Tablet
Overall, the OnePlus Pad Go succeeds in bringing premium tablet features to an affordable price point. It cuts the right corners to keep costs down without sacrificing the fundamentals. For media consumption, light gaming, web browsing, and communication, the Pad Go is a very capable option. Factor in the sleek design, vibrant display, long battery life, and loudspeakers, and it's easy to see the appeal. If you need top-tier performance this isn't the tablet for you, but for budget buyers, the OnePlus Pad Go is easy to recommend.