A wide selection of innovative lighting systems is available for your home, whether you're looking for casual lighting options or full integration into a gaming area. The Govee Glide Hexa Pro offers everything you need, from intelligent integrations to stunning visual effects. Moreover, it integrates with Razer Chroma software for gaming effects.
Wi-Fi and Bluetooth connectivity are available on the Glide Hexa Pro lights, as with many other Govee devices. With Amazon Alexa or Google Home, you can make the integrations seamless and issue voice commands, allowing the device's microphone to synchronize the beat to music as an effect.
There are many similarities between this and Govee's other Glide products in terms of colour, music integration, and scene design. While there are RGBIC LEDs in the Hexa Pro, the 3D effects set them apart from the original Hexa Light panels.
Price & Availability
Starting at $194.99, you can find the Govee Glide Hexa Pro directly on Govee's website. Many other retailers are also providing the lights. I will include a list of options below.
$199.99
as of August 28, 2023 11:55 pm
$139.99
as of August 28, 2023 11:55 pm
Last updated on August 28, 2023 11:55 pm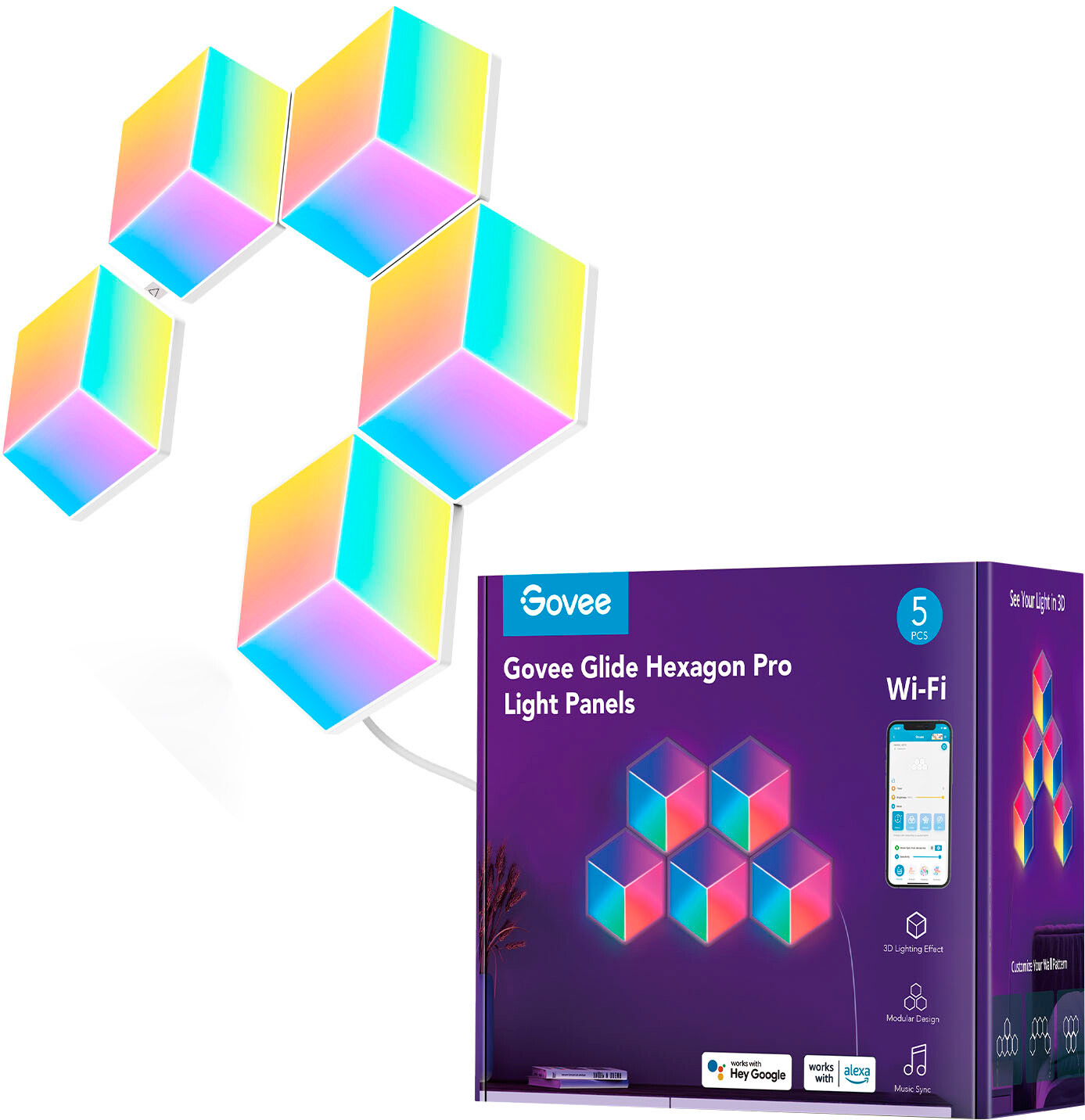 Setup / Installation
There are many similarities between the set-up process for the Govee Glide Hexa Pro and its predecessor. It starts by guiding you through layout planning, which gives you a great view of how to position the lights. Make sure you take your time with the placement so you won't have to reposition and run out of strips. I took my time to look at the tiles and place them in the correct order. I did have to change a few of them so slightly. You can set them however you like.
The app will suggest where to place the extension cable based on where your next tile will be. Plugging the power cable into the dedicated slot on the back of the tile will turn on the tiles. At this point, peel off the adhesive, stick the tile to your wall, and repeat for all your tiles. You can remove the LED tile from the separate mounting plate where the sticky pad is. By doing this, you'll have less conspicuous pull-tabs visible on your light later. It's an excellent idea to level yourself and place points on the wall to ensure you're aligned.
The Glide Hexa Pro has a beefy power supply to accommodate all the extra LEDs. But when aiming for a seamless look, this makes hiding a bit difficult. However, the cable comes with an in-line microphone that syncs during music playback and a hardware power switch, which is good when the Wi-Fi acts up. I'm still cautious about smart-things with internet-connected microphones. But at this point, I've already written off my privacy since I have Google's speakers.
The Govee APP
Using Govee, you can design your layout once you're in the app. There is the option of creating custom designs or looking at presets depending on the number of light panels you have. In contrast to a single super-linked system, numerous styles provide a-wide-range-of-visual possibilities.
Having determined your lighting design, Govee provides straightforward visual guidance on how to place and interconnect your wiring cables. As soon as everything is connected and firmware updates are complete, you can explore your Hexa Pro's options through the Govee Home app.
Using the Govee APP, you can explore colour, music, and effects. Unlike other apps, Govee doesn't lose the user-friendliness approach when the config process finishes.
It's easy to get lost in the choices of colour schemes or with the suggestions provided if you don't know what you want. There's nothing complicated about it, regardless of whether you want to explore the Effects Lab, check out Govee's colour wheel, or tweak the range of colours. You can explore the colour models in Govee Light Studio, which features a weekly colour review and week-by-week colour recommendations with Govee Light Studio's colour.
Since voice commands are available with the Glide Hexa Pro, you can enjoy turning them on or off from a distance.
3D Effects / Scenes / Colour
You can choose between 38 custom scene modes currently available in the Govee's Glide Hexa Pro app, plus whatever your imagination can conjure up! Its 3D enhanced modes are the most notable difference between it and, say, a Govee Glide Wall Light, a flat single-coloured LED side.
You will only be able to tweak the speed of the 3D presets since none of them support directional modes. You can further customize the colour flow's overall direction and middle point for the other categorical scenes; This depends on the options you select.
The Govee APP mainly features colour choices, but you can also set it up for music scenes and DIY modes. Syncing music from the device's microphone or the phone's microphone is possible under the music subsection.
In this case, preset themes are a little more limited when using the microphone on the smartphone. If you let the user choose between block, whole, and edge effects, these effects benefit the cubic nature of the lights. When you use your phone's microphone, you work with more standard presets, with categories like party, dynamic, and calm. Some of these presets automatically assign colours; others are more customizable.