In this comprehensive review, I delve into the EZQuest USB-C Multimedia 10-in-1 Hub—a slimline plug 'n-play solution that offers unparalleled connectivity for laptops and desktops. Join me as I explore how this versatile hub delivers exceptional performance, seamlessly integrates with your devices, and enhances your productivity.
The Perfect Companion for Your Laptop
When it comes to laptops, the number of available ports is often limited. That's where the EZQuest 10-in-1 Hub comes in handy. As a compact and sleek device, it perfectly complements your laptop by providing a wide range of ports. Experience the ideal balance between portability and functionality, ensuring you have all the connectivity options you need.
Features That Deliver on Every Promise
Let's delve into the impressive features of the EZQuest USB-C Multimedia 10-in-1 Hub. With two USB-C Gen 2 (10Gbps) ports, two USB-A 3.0 (5Gbps) ports, HDMI 4K (60Hz) output, RJ45 Gigabit Ethernet (1000Mbps), USB-C 100W power input, SD card readers, and a 3.5mm headphone/mic jack, this hub empowers seamless data transfer, power output, and multimedia functionality. Embrace a world of connectivity at your fingertips.
Powerhouse Performance for Your Workflow
When integrating a USB hub into your workflow, you need a device that can handle continuous usage and deliver on its promises. With the EZQuest 10-in-1 Hub, I have witnessed its exceptional performance even under a heavy workload. Whether you're utilizing every port or running power-hungry devices, this hub remains steadfast, ensuring uninterrupted connectivity and efficient operation throughout your workweek.
Versatility and Compatibility
The EZQuest USB-C Multimedia 10-in-1 Hub is a versatile device that caters to both Windows and Mac machines. It also supports a range of gadgets with USB-C connectivity, including Samsung smartphones and Chromebooks. The hub's USB-C cable is compatible with Thunderbolt 4/3 ports, expanding its usability across various devices. However, it's worth noting that the USB-A ports do not work with Apple SuperDrive. Experience seamless compatibility without limitations.
Sleek Design and Thoughtful Cable Solution
The design of the EZQuest Multimedia Hub sets it apart from the competition. With its sleek aesthetics and compact size, it offers a visually appealing solution that complements any workspace. However, the standout feature of the hub is its cable. EZQuest has implemented a durable, nylon braided cable that not only adds to the hub's robustness but also keeps it neatly positioned. Bid farewell to cable clutter and enjoy an organized workspace.
Should You Buy EZQuest's USB-C Multimedia 10-in-1 Hub?
In evaluating whether the EZQuest hub is the right choice for you, it's important to weigh the pros and cons. The hub's braided cable ensures a clean setup and features like USB-C passthrough charging and high-speed shared data and power (10Gbps) are definite advantages. However, it's worth considering that the hub offers only one HDMI port and doesn't support USB-C to DisplayPort connections. Assess your specific needs and make an informed decision based on its features and limitations.
$69.99
$79.99
as of September 22, 2023 1:39 pm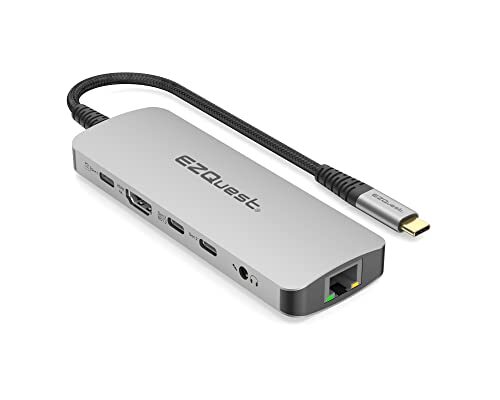 What do I think?
The EZQuest USB-C Multimedia 10-in-1 Hub emerges as a reliable and indispensable solution for expanding your device's connectivity options. With its exceptional performance, sleek design, and thoughtful features, this hub empowers you to maximize your productivity and simplify your digital life. Whether you use it for work or personal use, the EZQuest hub proves to be a worthy investment for those seeking enhanced connectivity in a compact package.