The heavyweight fight for top noise-cancelling headphones is on! In one corner we've got the new Bose QuietComfort Ultra, looking to score a knockout blow. And in the other corner is the defending champ Sony WH-1000XM5, ready to go the distance. Let's get ready to geek out over headphones!
Product Comparison
| | |
| --- | --- |
| | |
| | | |
| --- | --- | --- |
| Active noise cancellation | Yes | Yes |
| Ambient noise | Yes (transparency mode) | Yes (transparency mode) |
| Battery life (rated) | 18 hours (Immersive Audio); 24 hours (ANC) | 30 hours (ANC on); 40 hours (ANC off) |
| Fast charging | 15-minute charge = 2.5 hours | 3-minute charge = 3 hours |
| Wired support | Yes (3.5mm to 2.5mm audio cable) | Yes (3.5mm to 2.5mm audio cable) |
| Special features | Adaptive ANC, ambient listening mode, aptX Adaptive, Bluetooth multipoint, customizable sound, Google Fast Pair, quick charging, Immersive Audio with head-tracking (universal), SimpleSync, touch volume controls, voice command | Adaptive ANC, ambient listening mode, Speak-to-Chat, LDAC high-quality audio support (Android only), DSEE upscaling, 360 Reality Audio with head-tracking (select apps), quick charging, touch controls, voice command |
| Weight | 8.96 ounces | 8.8 ounces |
| Colours | Black, White Smoke | Black, Midnight Blue, Silver |
| Charging | USB-C | USB-C |
Ding Ding! Bose Comes Out Swinging With Stronger ANC
Bose wasn't messing around with enhancing its noise-cancelling game for the QC Ultra. We're talking even more external sound getting shut out faster than your ex. These headphones pack extra mics and adaptable algorithms to block unwanted noises across the frequency spectrum. I took the QC Ultra on an airplane and it muzzled the engine rumble into a faint purr. Crying babies in the grocery store? Silenced. My neighbour's late-night electric guitar jam session? Cancelled like a bad opening act.
Now Sony's ANC chops are nothing to sneeze at. The WH-1000XM5 did a bang-up job reducing noise pollution in my day-to-day life. But every so often a seriously loud sound would slip through its defence, like an unexpected uppercut. The Bose QC Ultra kept their guard up better and scored more points for round 1 with superior noise cancelling. Cha-ching!
Sony - WH-1000XM5 Wireless Noise-Canceling Over-the-Ear Headphones - Silver
as of December 7, 2023 3:18 pm
Immersive Audio Is Bose's Secret Weapon
When it comes to audio quality though, Sony lands some solid punches with the WH-1000XM5. We're talking about customization options out of the wazoo and top-notch drivers that make music pop like a stadium show. Bass has that thump, mids are crystal clear, and highs sparkle without getting shrill. An experienced producer could easily geek out over the sound tweaking possibilities.
But then Bose unleashes its surprise knockout blow – Immersive Audio on the QC Ultra. This spatial 360-degree sound takes music and movies to the next level, making it feel like you're on stage or in the scene. It works with practically all stereo content too, unlike Sony's finicky 360 Reality Audio. Watching movies on the QC Ultra blew me away, with effects and dialogue seeming to come at you from all directions. And concerts had me looking around for the live band before realizing I was just wearing sweet headphones. Bose's Immersive Audio is an instant classic.
In the Design Department, Bose Looks More Fly
When it comes to style and build quality, the Bose QC Ultra looks slick and sturdy thanks to aluminum and steel accents. The leather ear cups are plush without getting sweaty. Sony's WH-1000XM5 feel kinda flimsy and boring in comparison with their plastic construction. Form should follow function and Bose brings both to the table.
But in the later rounds, Sony gains back some points for stamina. The WH-1000XM5 lasts a marathon-worthy 30+ hours on a charge, letting you zone out with noise cancelling for days. The QC Ultra start desperately waving their white towel around the 24-hour mark. So Sony takes the trophy for battery life, but Bose ultimately wins over more judges with their design.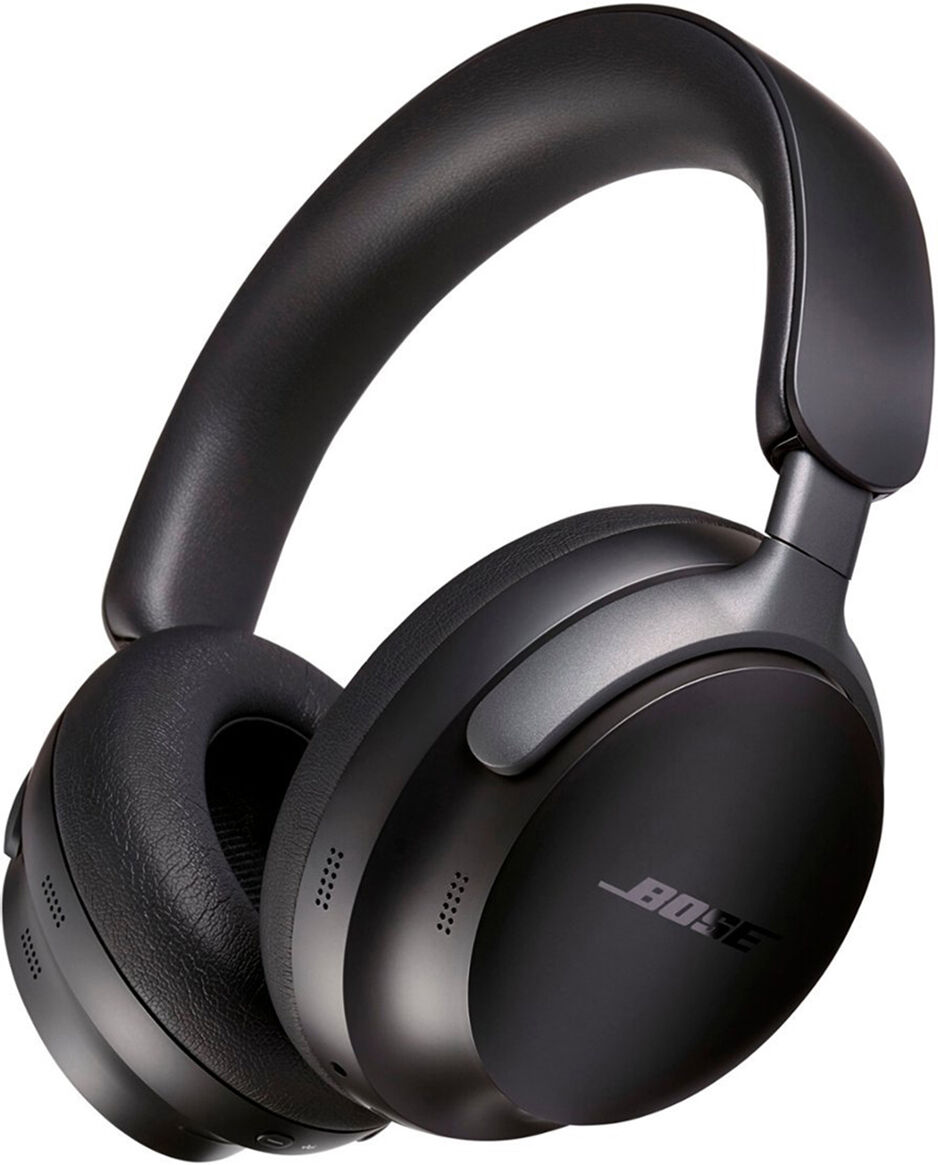 Bose QuietComfort Ultra Wireless Noise Cancelling Over-Ear Headphones Black
as of December 7, 2023 3:18 pm
The Verdict: Bose QC Ultra by Split Decision
After going the full 12 rounds, the Bose QuietComfort Ultra claims the noise-cancelling championship belt! Their enhanced ANC and immersive audio edged out Sony's strong contender. But the WH-1000XM5 still comes darn close thanks to all those sweet sound customizations that audiophiles crave. Honestly, you can't go wrong with either set of premium wireless cans. But if you want the very best noise cancelling and most immersive listening experience possible, the Bose QC Ultra will make your ears and wallet happy. Just be prepared to shell out for pay-per-view level quality!