The Need for NAS
In today's data-driven world, where our lives are filled with high-resolution photos, videos, and extensive digital files, the need for reliable and accessible storage solutions has never been greater. Traditional external hard drives are useful for backup and file storage, but they lack the flexibility of accessing data from various devices remotely. This is where Network Attached Storage (NAS) comes to the rescue.
NAS provides a seamless way to store, manage, and share data across multiple devices and locations through a home or office network. No more worries about leaving your hard drive in the office or struggling with complex setups for sharing files. With NAS, you can effortlessly access your precious files on the go, from your PC, smartphone, or tablet, and even share them with family, friends, or colleagues.
In this comprehensive guide, we'll explore some of the best NAS devices available, perfect for home users and small businesses alike. From top-performing models to detailed buying tips, you'll gain the insights needed to make an informed decision and embrace the power of NAS storage for the home.
Synology DiskStation DS220+: Best NAS for Most Home Users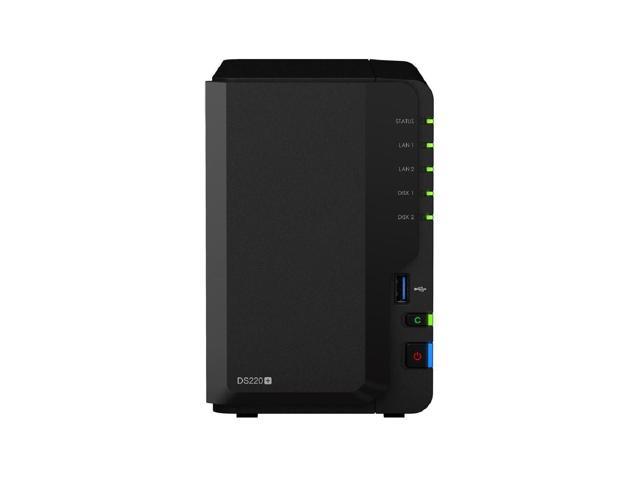 When it comes to an all-in-one solution for home users, the Synology DiskStation DS220+ stands out as a clear winner. This two-bay NAS offers a perfect balance of performance, ease of use, and versatility, making it an ideal choice for various scenarios.
Easy Setup and Management
Setting up the DS220+ is a breeze, even for beginners. With an intuitive web-based interface, the installation process is guided step-by-step, ensuring you're up and running in no time. Synology's DiskStation Manager (DSM) makes managing your NAS a joy, with a user-friendly and responsive interface that allows effortless navigation through various features and settings.
Versatile Functionality and Apps
The DS220+ is not just a simple storage device; it's a feature-packed powerhouse. From media streaming to file management, the NAS offers an array of built-in apps that cater to diverse needs. Whether you want to enjoy seamless media playback through Plex or keep your data safe and synced with Resilio Sync, this NAS has it all covered. Moreover, its support for third-party apps like GitLab opens up endless possibilities for customization and personalization.
Solid Data Protection and Security
Your data's safety is paramount, and the DS220+ ensures robust protection. The hardware encryption feature adds an extra layer of security to your files, safeguarding them from unauthorized access. With RAID support, you can set up data redundancy, protecting against drive failures and minimizing the risk of data loss. So, you can rest assured that your digital memories and critical files are in safe hands.
QNAP TS-251D-4G-US: Another Excellent NAS for Home Users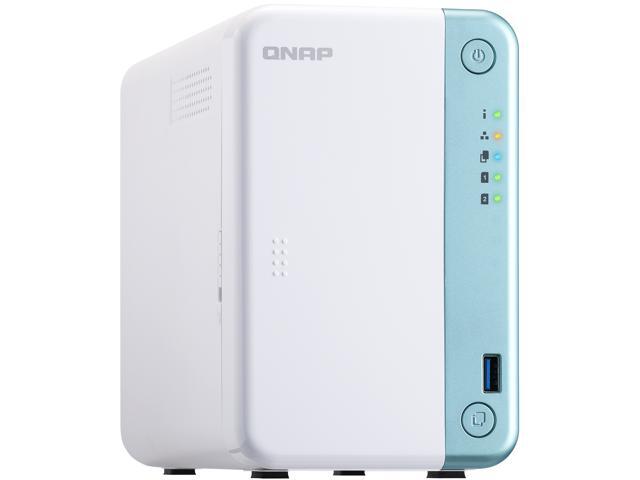 If you're seeking an alternative to the DS220+ or desire additional connectivity options, the QNAP TS-251D-4G-US is an excellent contender. This NAS boasts impressive performance and comes with unique features to enhance your digital experience.
High-Speed Performance
The TS-251D-4G-US is on par with the DS220+ in terms of speed and file transfer capabilities. Its snappy performance ensures quick access to your data, enabling smooth multimedia streaming and seamless file sharing. Whether you're a casual user or a tech enthusiast, the QNAP NAS won't disappoint you.
Enhanced Connectivity with HDMI Port
One standout feature of the TS-251D-4G-US is the addition of an HDMI port. This means you can directly connect the NAS to your TV, turning it into a media hub. Enjoy your favourite movies, shows, and photos on the big screen without the need for a separate media streaming device. It's a convenient option for those seeking a centralized entertainment solution.
Seamless Management Interface
Like the DS220+, the QNAP NAS utilizes its proprietary management interface, QTS. While personal preferences may vary, QTS is renowned for its comprehensive functionality and user-friendly design. Effortlessly manage your NAS, access apps, and customize settings with ease.
QNAP TS-451D2-4G: Expandable Storage and Server Functionality
For users who demand more storage space and advanced server capabilities, the QNAP TS-451D2-4G is an attractive choice. With its four drive bays and impressive memory, this NAS is designed to meet the needs of professionals and business owners.
More Bays, More Storage Options
The four-bay design of the TS-451D2-4G allows you to scale your storage capacity as your data requirements grow. Whether you're a video or photo professional with extensive collections or a business owner with critical files, this NAS provides the room to accommodate your expanding digital world.
Redundant Backup and Improved Speed
Having multiple bays means you can configure your NAS for redundant backups, ensuring data redundancy and protection against drive failures. The extra memory also enhances the NAS's ability to handle large files and run server-side applications, making it an excellent choice for creative professionals and data-intensive businesses.
Ideal for Professionals and Business Owners
The TS-451D2-4G is specifically tailored for users with professional demands. If you deal with large files regularly or multiple users access your NAS simultaneously, this model's Gigabit Ethernet port with link aggregation offers improved performance. The result? A NAS that can handle your needs, no matter how demanding they may be.
Synology DiskStation DS420+: Extra Data Protection and Storage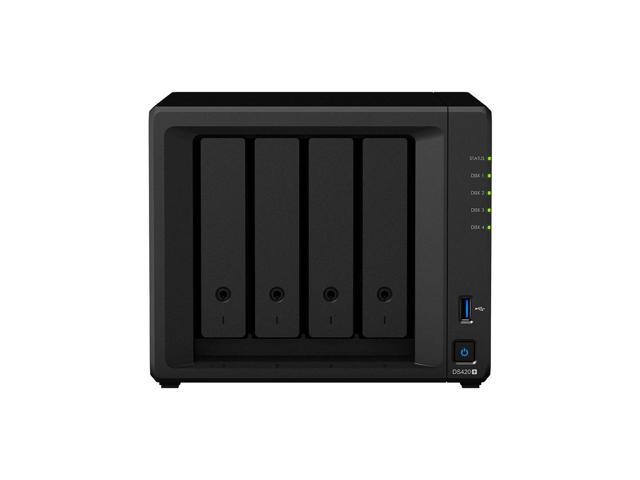 If you favour Synology's software and require a four-bay NAS for your home, the Synology DiskStation DS420+ is the perfect fit. While it may be a touch slower than its QNAP counterpart, it compensates with its reliability and user-friendly interface.
Optimal Choice for Basic Tasks at Home
The DS420+ is designed to cater to the needs of home users looking for an uncomplicated yet robust NAS solution. Whether you want to store family photos, videos, or documents, this NAS has your back. While not the most powerful in its class, it's more than sufficient for typical home usage.
Embrace Synology Software and Interface
If you've been a fan of Synology's DiskStation Manager (DSM) software, you'll feel right at home with the DS420+. The DSM offers a seamless and straightforward experience, with a plethora of built-in applications and customization options. You can easily configure your NAS to suit your preferences and needs.
A Versatile and Reliable Solution
While the DS420+ may not be the fastest NAS available, it excels in reliability and simplicity. For archiving precious memories or maintaining personal files, this NAS is more than capable. It's an excellent option for home users seeking data protection without the complexity of advanced server features.
Buying Guide: Finding the Perfect NAS for Your Needs
Choosing the right NAS depends on your specific requirements and intended use. Here are the key factors to consider before making your purchase:
Capacity and Number of Bays
Determine how much storage space you need both now and in the future. NAS devices come with varying numbers of drive bays, allowing you to expand your storage as needed. A two-bay NAS may suffice for most home users, while professionals and businesses may prefer four-bay options.
Performance and Speed
If speedy file transfers and seamless media streaming are essential to you, look for NAS devices with fast processors and ample memory. Consider models with link aggregation support if multiple users will access the NAS simultaneously.
Backup and Data Protection
Ensure your NAS provides robust data protection mechanisms like RAID configurations and hardware encryption. Redundant backups are crucial for safeguarding your valuable files.
Connectivity and Remote Access
Check the NAS's connectivity options, such as USB ports, HDMI, and Ethernet. Remote access features are essential for accessing your data on the go and sharing files with others.
Software and Third-Party Apps Support
The NAS's software interface plays a vital role in your overall experience. Evaluate the available apps and third-party software support to ensure the NAS caters to your specific needs and preferences.
Final Thoughts: Embrace the Power of NAS
Network Attached Storage is more than just a data repository; it's a gateway to a seamless and enriched digital lifestyle. Whether you're a tech-savvy individual, a creative professional, or a small business owner, a well-chosen NAS can unlock the true potential of your digital world.
Home NAS reviews, Best NAS for media streaming, NAS for Plex, NAS for photo storage, NAS for backing up data, NAS for home office, and NAS for small businesses – all of these relevant keywords emphasize the versatility and significance of NAS in various scenarios. The comprehensive guide has provided you with the knowledge to make an informed decision and select the ideal NAS solution for your unique needs.
The Synology DiskStation DS220+, with its unmatched ease of use and versatility, stands out as our top recommendation for most home users. It provides an ideal balance of features, performance, and data protection, making it a perfect companion for your everyday storage needs.
If you're seeking more connectivity options and media playback capabilities, the QNAP TS-251D-4G-US is a worthy contender. Its HDMI port and solid performance make it an excellent choice for multimedia enthusiasts.
For professionals and businesses demanding expandable storage and advanced server functionality, the QNAP TS-451D2-4G is a compelling option. Its multiple bays and enhanced speed ensure your growing data requirements are met with ease.
Lastly, the Synology DiskStation DS420+ caters to those who prefer a straightforward NAS solution, backed by Synology's reliable software. While it may not be the fastest, its simplicity and data protection features make it a dependable choice for home users.
Embrace the power of NAS, and take charge of your digital life like never before!