Introduction
Hey there! Get ready to transform your humble abode into the coolest and most immersive space ever with Nanoleaf Lines! These bad boys are not your average lights – they're smart lights that bring style and excitement to your home. The smarter kit provided to me is the Squared Smarter Kit which offers you 4 lines.
Imagine this: thin, flexible light bars that can be moulded into any shape or pattern your creative heart desires. With Nanoleaf Lines, you have the power to design your own lighting masterpiece! Talk about freedom of expression.
But wait, there's more! Nanoleaf Lines play nice with a bunch of smart home platforms, so you can easily control them with just your voice or a simple button press. How cool is that? No more fumbling for switches or struggling with complicated setups. Nanoleaf Lines have got your back.
Now let's talk about versatility. These babies can set the perfect mood for any occasion. Need some cozy vibes for your living room? Boom! Nanoleaf Lines have you covered. Hosting a banging party? Oh yeah, they've got your back there too! These lights offer a wide range of features to suit your every lighting need.
C $129.99
as of May 27, 2023 7:18 am
$169.99
$199.99
as of May 27, 2023 7:18 am
C $279.99
as of May 27, 2023 7:18 am
Dive into a world of colour with Nanoleaf Lines. You can choose any shade of the rainbow to suit your mood or décor. Feeling adventurous? They also come with a selection of pre-programmed scenes to really spice things up. But here's where it gets even better – you can go full-on director mode and create your own mind-blowing light shows or sync them up with your favourite tunes. It's like having your very own personal light DJ.
So, why settle for ordinary lighting when you can have an extraordinary experience with Nanoleaf Lines? Get ready to make your home shine with style, versatility, and an epic dose of fun!
Here are some of the things that make Nanoleaf Lines so special:
Features
Nanoleaf Lines offer a variety of features that make them a great choice for any home. Some of these features include: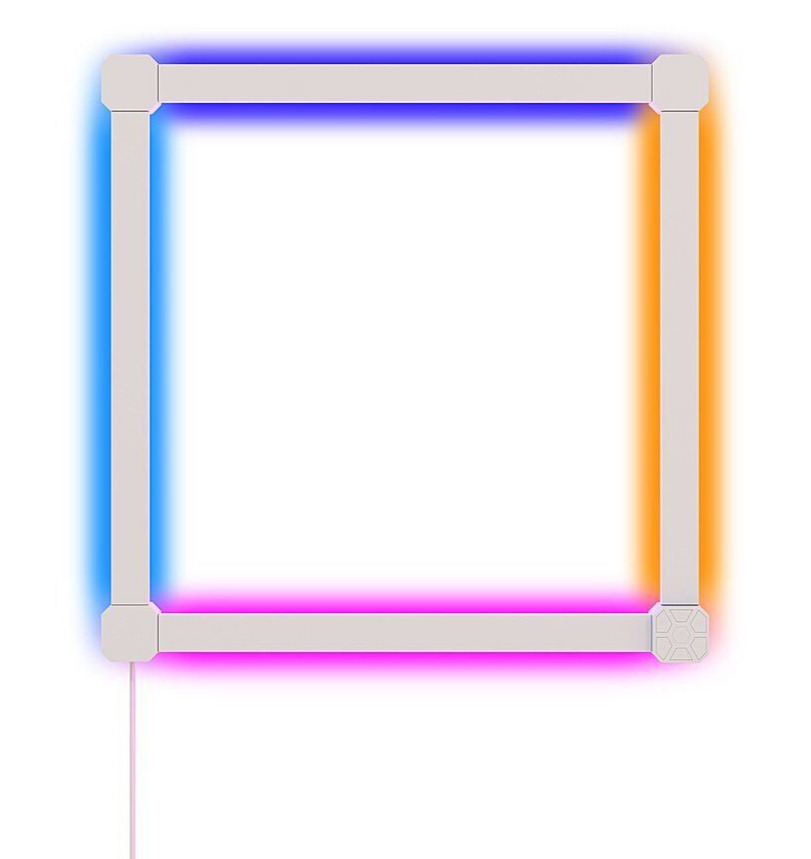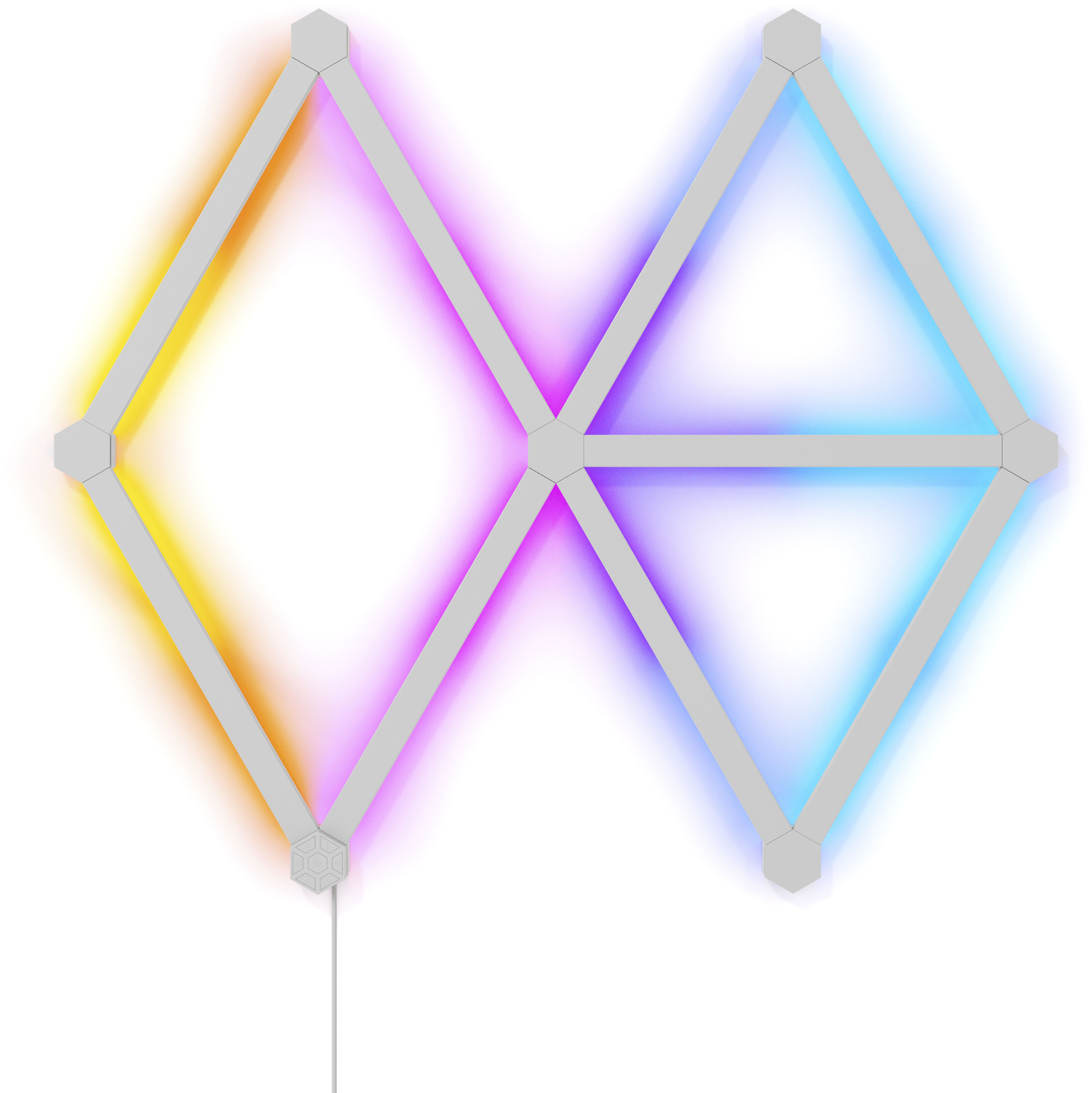 Pros and Cons
Here are some of the pros and cons of Nanoleaf Lines:
Pros:
Cons:

Stylish and unique design.

Variety of features.

Compatible with a variety of smart home platforms.

Easy to install and use.

They can be expensive.

Not as bright as some other smart lights.

It can be hard to find replacement parts.
Where to Buy
Nanoleaf Lines are available for purchase from a variety of retailers, including:

Pricing
The Nanoleaf Lines Squared Smarte Kit is currently priced at USD$99.99 (CAD$129.99). This kit includes 4 light bars, a power supply, and a controller. Additional light bars can be purchased for USD$59.99 (CAD$79.99) per expansion kit.
Conclusion
Listen up, folks! It's time to take your lighting game to a whole new level, and Nanoleaf Lines is the way to make it happen. Trust me, you won't want to miss out on this incredible buying option.
Let's start with the sheer awesomeness of Nanoleaf Lines' backlighting prowess. These lights have nailed it, my friends. The colours are so vivid and vibrant that they practically jump off the walls and smack you in the face with their beauty. And the best part? There are endless combinations that will leave you absolutely mesmerized. Seriously, finding fault with these lights? Good luck with that!
But wait, there's more! Get ready to futureproof your smart home setup by adding Nanoleaf Lines to the mix. If you don't already have a Thread router like the Apple HomePod mini, fear not! These lights have got your back. When you inevitably expand your smart home with more Thread-enabled devices in the future, guess what? They'll all be connected through the Lines, responding instantly to your every command. It's like having a magical network that dances to your tunes.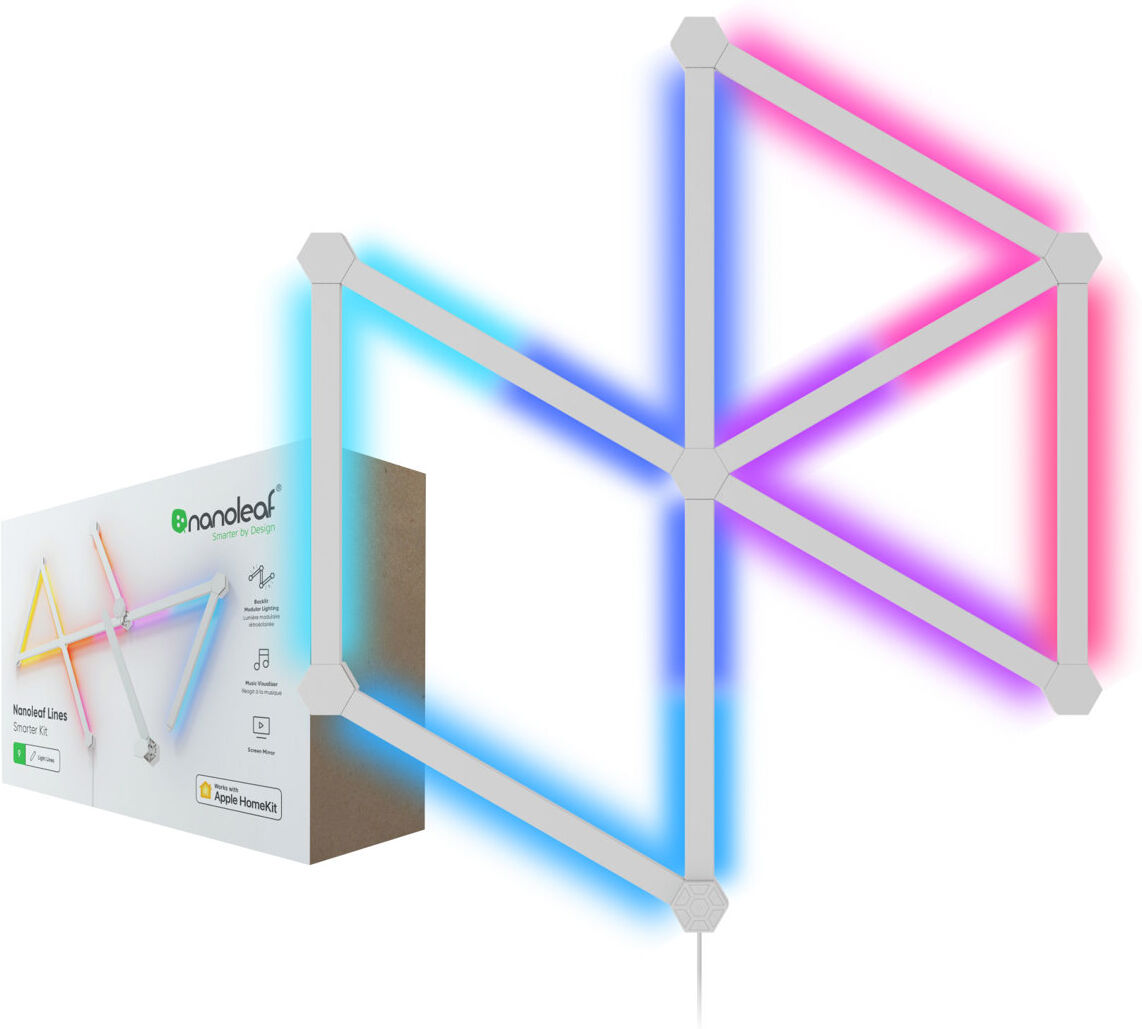 Alright, let's dive into the world of dazzling walls and ceilings. We're not just talking about setting the mood here, folks. Brace yourselves for the jaw-dropping awesomeness of Nanoleaf Lines' mind-blowing music mode. Imagine this: you're throwing the ultimate party, the beats are thumping, and these lights take your home to a whole new level, transforming it into a pulsating club experience. It's like having a personal DJ right in your very own living room. Oh, and fret not about their appearance during the daytime. Nanoleaf has got you covered with sleek skins that ensure they always maintain their irresistible charm. Get ready to turn up the excitement and make every moment an unforgettable one.
I can read your mind – budget concerns, right? Let's keep it real. Nanoleaf's modular lights may not be the most budget-friendly choice on the market. But let me assure you, my friend, they are worth every single penny. Forget about settling for ordinary smart bulbs or light strips. They can't even hold a candle to the mesmerizing, awe-inspiring experience that Nanoleaf Lines offer. Sometimes, you've got to pamper yourself with the very best, and guess what? This is it. Embrace the extraordinary and elevate your lighting game to unparalleled levels.
Now, let's address the adventurous souls who love to mix things up. Nanoleaf Lines are removable, giving you the freedom to experiment and change things around. Sure, you don't want to do it every other day, but when inspiration strikes or you want to move them to another room, go for it! Nanoleaf has worked hard to make sure they won't leave your walls in shambles. It's all about flexibility without the headache.
Alright, my friends, it's decision time. Nanoleaf Lines offer an extraordinary lighting experience that will blow your mind. From the dazzling colours that bring your walls to life to the seamless integration with your smart home, these lights are the real deal. So, don't wait for another second. Take the leap, embrace the awesomeness, and let Nanoleaf Lines be the shining stars that transform your home into a captivating wonderland. Trust me, you won't regret it!